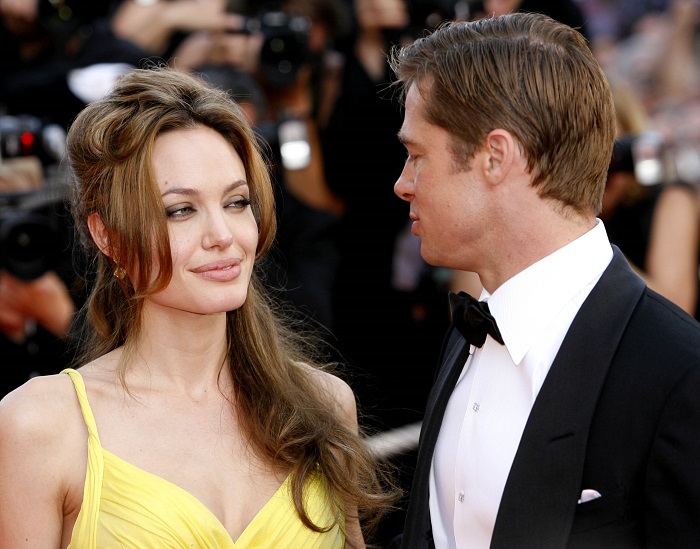 Angelina Jolie and Brad Pitt who were allegedly calling it quits this year are consciously reconciling after intense rehab and spiritual counselling, claims biographer Halperin. Seven weeks ago, the actors were spotted outside a modest-three bedroom house on the flats of Beverly Hills. The pair was seen close to each other for the first time in 10 months, since their divorce proceedings. 
"Brad took the first step forward. Then they collapsed into each other's arms," said Halperin, reports dailymail.co.uk. 
The stars went inside the home of a friend for an emotional conversation.
"There were a lot of tears," Halperin said. 
"Nothing was left on the table. They had it out, right there and then in this very modest house. In that moment they decided to make a fresh start. It was a 'come to Jesus meeting' that marked the beginning of a new phase in their relationship," said the biographer.
When the couple split last September amid toxic allegations of drink, drugs and a mid-air altercation between Pitt and their teenage son Maddox -- which resulted in brief investigations by the FBI and social services -- the rift in their relationship seemed as final as it was sudden.
Also Read: Angelina Jolie on split from Brad Pitt: Things got bad and difficult to handle
The tough love meeting arranged by their divorce negotiator gave them the room to talk in the presence of a referee who helped them cut through acrimony and accusation. It was henceforth concluded that the duo still loved each other and wanted to give a fresh start to their marriage. According to dailymail.co.uk, they are working to "consciously re-couple" and have undergone intensive rehab and spiritual counselling sessions in an effort to start anew.
A leading daily also confirmed that Brad Pitt apologised to Jennifer Aniston for having cheated on her with Angelina Jolie. Pitt was married to Jennifer when he met Angelina and love bloomed between them. But now, Brad decided to amend whatever wrong he did. And he started by apologising to his ex-wife Jennifer Aniston. 
(With IANS Inputs) 
For more entertainment updates, follow our Facebook page