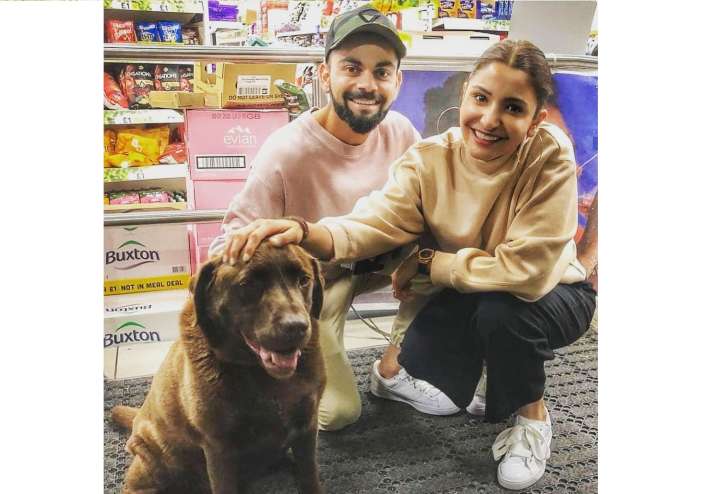 Anushka Sharma and Virat Kohli are madly in love with each other, but there is something else as well whom the couple loves even more. We're talking about their collective love for animals, especially dogs. Those who follow the supercouple of India on Instagram, they must know that Anushka and Virat, both are proud parents to a Labrador and a beagle respectively. It is evident that they genuinely feel for these animals, and so wherever they go, they always bump into a furry friend.
On Friday, the Indian skipper shared a picture with his wife Anushka Sharma on his Instagram. This time, sharing the frame with them was a rather cute doggo with an infectious smile. Virat had an even more adorable caption for the picture, saying, "Met this beautiful boy who was patient enough to take a picture with us."
Anushka Sharma beams with pride as husband Virat Kohli sends flying kiss after 23rd Test century (Video)
If you're a dog lover, just Virat, Anushka and me, you can't help but stare at the chocolate brown dude who looks no less than a cuddle ball.
Well, it's not the first time that Anushka Sharma and Virat Kohli proclaimed their love for animals. Their Instagram handles every now and then, are introduced with some new four-legged friends.
Virat Kohli's message to wife Anushka Sharma after Nottingham Test win will make your day
In June this year, the Sui Dhaaga actress shared a picture of her happy family that included a coffee brown puppy. In the picture, Anushka is seen holding the pup in her arms while Virat can't stop laughing seeing his wife's mad love for dogs. The picture went viral on the internet and the Virushka fans couldn't stop gushing all over it.
Even when Anushka was in the US to shoot for her upcoming film Zero, she found a doggo there as well. Spotting a dog, the beautiful lady can't help but rush to pamper it. Proof- this picture itself.
Amitabh Bachchan, Virat Kohli-Anushka Sharma contribute towards Kerala flood relief
Now introducing Anushka's very own 'good boy' whose name is Dude. And FYI, he's a blood donor. Such a noble fella, isn't it?
Chilling with her pet dog is Anushka's idea of having the best day off from work.
Watch how Anushka Sharma transformed into Mauji's Mamta in Sui Dhaaga (Video)
And here comes Mr. Kohli with his Junior Kohli.
It is proven, that dog love is the mutual love shared by Anushka Sharma and Virat Kohli.