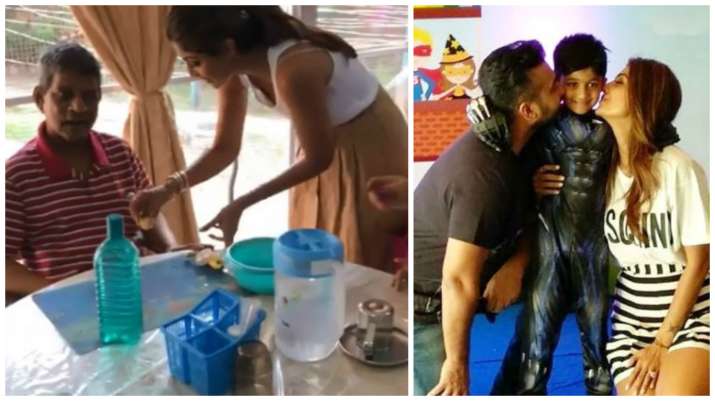 Trolling celebrities on social media has become a norm. People often couldn't digest the thoughts and beliefs of these celebs and go on to slam them on social media. Well, Shilpa Shetty's case was no different. The actress, who celebrated sixth birthday of her son Viaan Raj by visiting an old age home and distributing sweets and fruits to senior citizens had to face filthy remark by a troll.
Unlike starry birthday bash, the actress decided to celebrate the special day in quite a different manner. Shilpa, who is a social media addict took to Instagram to share a video from the old age home. In the clip, she and her son along with other family members can be seen giving sweets to elderly people. Sharing the video, she wrote, ''Keeping up with tradition of dinner at the #littlesistersofthepoor, an old age home. They have very few visitors and the joy on their faces when someone comes and visits them is priceless.Nothing more powerful than to start my sons birthday with Blessings.. Thankyou for all your blessings and wishes as well instafam Loads of #gratitude #happiness #blessings #love #unconditionallove''.
However, her philanthropic act was seen as a publicity gimmick. One user noticed that the actress is distributing banana which is the ''cheapest'' fruit. She commented: ''Distributing the cheapest fruit available and broadcasting on Instagram. Doesn't seem so simple. Stop this show off.''
The actress gave a befitting reply, saying: ''It's sad you think this way. Yes, we personally served them a full dinner service after this. I only put it up here for 'awareness' so more people can get directed to this cause or contribute to this place that needs help. And like I said, this is tradition for us, our parents have been taking us here for years and I continue that with my child. Broadcasting to show off is never my intent".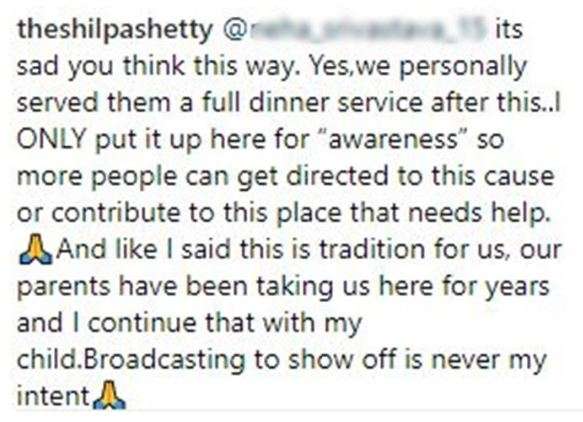 The lady later deleted her comment after Shilpa's other followers started slamming her for her remarks.
Shilpa and her husband Raj Kundra also threw a birthday bash for Viaan, which was attended by many celebs.
For all latest news, keep checking our Facebook page