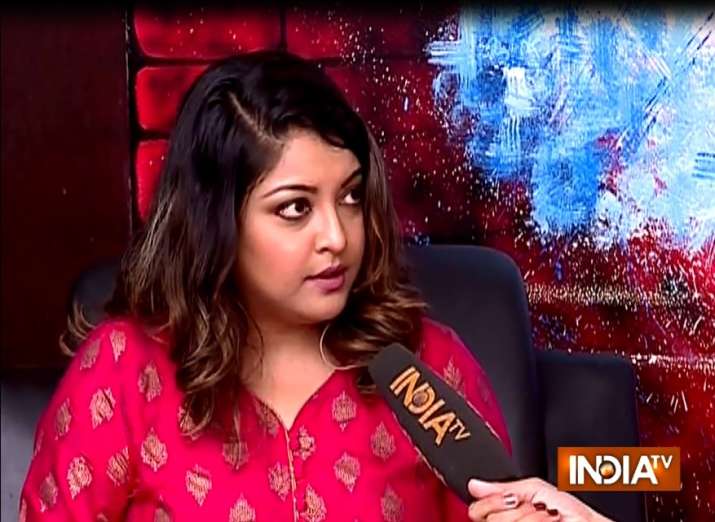 Tanushree Dutta kickstarted the Indian version of MeToo campaign by speaking up about the alleged sexual abuse and harassment she faced during her tenure in Bollywood. She started with allegations on veteran actor Nana Patekar and accused him of manhandling her during a film shoot. She even dragged Hate Story director Vivek Agnihotri's name in her strings of accusations and divulged that the filmmaker asked her to strip in front of two male actors. She alleged that in 2005, Agnihotri asked her to strip and dance without any warning. However, she lauded Irrfan Khan and Suniel Shetty to take a stand for her and lambasting the director.
When Tanushree Dutta was shooting for a song for film Horn OK Please!, she walked out of the sets upset about Nana Patekar's misbehaviour. She was hounded by the producer's goons after that. Around 10 years later, Tanushree narrated her ordeal to media.
She told India TV, "When I went to the set to shoot for a song, Nana Patekar was present even though he had nothing to do with the song. I chose to ignore him, but he was passing lewd stares at me. He started coming close to me and started dragging me, catching hold of my arm. He asked choreographer Ganesh Acharya that he would teach me how to dance. I was shocked by his behaviour. Was he drunk?"
"When I complained to the producers, they paid no heed to my concerns. In fact, they came back to me that I have to shoot an intimate scene with Nana Patekar. They were trying to pressurize me. My mom and dad came to the set. They spread rumours about me in the media. It was so easy for the producer to spread rumours about me that I was being difficult. Even if I did lock myself in the van, did anyone wonder that something horrible must've happened with me?," she added.     
Earlier, while speaking to a leading entertainment daily, Tanushree Dutta said, "Everyone knows about Nana Patekar that he has always been disrespectful towards women. Everyone in film industry know about his background... that he has misbehaved with actresses."
Later, Tanushree Dutta's vanity was thrashed, and the window panes were broken. She even spoke about a political party who was involved in damaging her van and terrorizing her. She filed a police complaint about the matter. Police took her to the police station after escorting her out of the vanity van. However, a counter FIR was waiting for her at the police station.
"For one and half year, we were harassed. We were called at the police station. My hairdresser was locked up in prison. Everyone who tried to save me, were troubled by the police. Even my dad went to the police station umpteen times," she said.
"Industry hardly cared about whatever happened to me. Even if they weren't supporting me, at least they shouldn't have worked with these perpetrators," she added lambasting actors like Akshay Kumar and others who have worked with Nana Patekar.
 Tanushree Dutta even lashed out at Bollywood biggies including Akshay Kumar and Rajinikanth for working with Nana Patekar even after knowing about his misdeeds. However, Akshay's wife Twinkle Khanna stood out in support of Dutta on Twitter. Backing her courage to speak out in public about her assault, she said, "Please read this thread before judging or shaming #TanushreeDutta a working environment without harassment and intimidation is a fundamental right and by speaking up this brave woman helps pave the way towards that very goal for all of us!"
Please read this thread before judging or shaming #TanushreeDutta a working environment without harassment and intimidation is a fundamental right and by speaking up this brave woman helps pave the way towards that very goal for all of us! https://t.co/f8Nj9YWRvE

— Twinkle Khanna (@mrsfunnybones) September 28, 2018
Her tweet came in response to journalist Janice Sequeira's Twitter thread that asked people to stop judging and shaming Tanushree Dutta for speaking up about her sexual assault, even if after 10 years. 
Agreed..the world needs to #BelieveSurviviors https://t.co/ia82UsCkkq

— PRIYANKA (@priyankachopra) September 28, 2018
This thread is very telling. @janiceseq85 was there at the time of the incident being debated today. Even when #TanushreeDutta had career concerns to keep quiet 10 years ago she did not & her story hasn't changed now. Her courage should be admired, not her intention questioned. https://t.co/Ola3MNdmtS

— Farhan Akhtar (@FarOutAkhtar) September 27, 2018
Kangana Ranaut who always spoke up on the social issues, stood in support of Tanushree Dutta. Talking to Pinkvilla, she said, "I am not here to pass judgement. That's neither my place nor my intention. I appreciate her courage to speak about alleged harassment that has been caused to her. It's her and the accused's fundamental right to speak about their experience of the same situation. Such dialogue is very healthy and it will bring about a lot of awareness. Unfortunately, the way most Indian men are raised by their mothers; they even lack basic etiquettes like lifting the lid before peeing."
"Raja beta needs to be told the meaning of 'NO' as well. It's in the interest of society that the Raja betas are told what their parents fail to tell them. They must know that the fundamental human rights are the same for men and women. Trust me, it will be news to some of them. The kind of rape, harassment and teasing news reports we hear every other day, I wonder if some of these zombies out there qualify to be a human. We need to talk about it and we all must share our stories. It will also bring a sense of shame and fear in them as they will know that a girl can stand for herself at any point in time. Our life stories have no expiry date," Kangana added speaking about the sexual harassment, rape happening in India and other parts of the world.