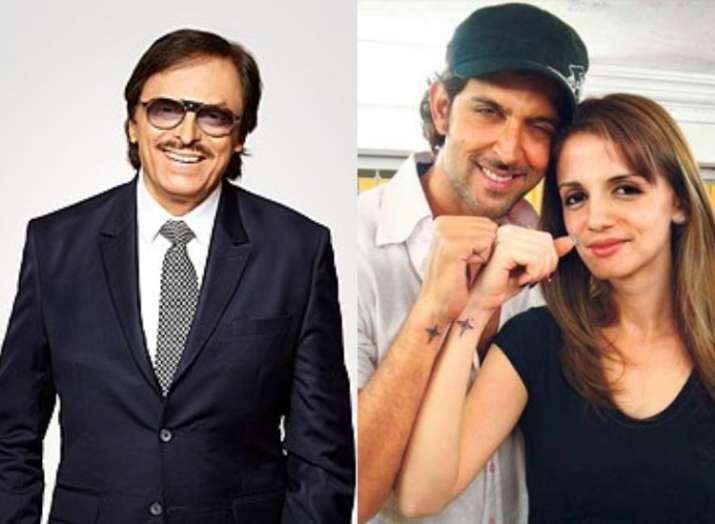 Bollywood actor Hrithik Roshan and ex-wife Sussanne Khan have been through an ugly divorce that left everyone in shock. After having two wonderful kids, Hrehaan and Hridaan, and 13 years of marriage, it came as a blow to many to hear about their separation. While the two have never let their divorce affect their children, Sussanne Khan's father Sanjay Khan reveals that he stills wants his daughter and Hrithik Roshan to get back together.
Veteran Bollywood actor Sanjay Khan has written his autobiography, The Best Mistakes of My Life and while at the launch of the book, a week ago, the whole family was present, in an interview recently to Hindustan Times, the actor revealed, "It is sad and unfortunate. The institution of marriage is being eroded and isn't celebrated as it was in the earlier days when it was marriage till death do us part. My personal advice to all youngsters who get married would be to do their best to make it work. When we could do it in our times, why can't you?"
He added, "Do not be distracted… see the value of a home life, see the value of a good family, don't think frivolously and while under the influence of alcohol or drugs..." Sanjay Khan shared that divorce is heartbreaking to go through and till date he has not asked his daughter, Sussanne Khan the reason for her parting with Hrithik Roshan. He said that the good thing is that his grand-children Hrehaan and Hridaan have not felt the negative impact of their parents' separation because of Hrithik and Sussanne's efforts.
He said, "I love Hrithik still and I love my daughter. They must have their reasons. Fine. But the good part is, they're still very good friends. And the children don't feel the negative impact of their separation because of the combined efforts of both to keep it working. They holiday together, they take care of the children from time to time, babysitting and stuff… When people say that Hrithik is no longer my son-in-law, I say I have a relationship with him: he is the father of my grandchildren, and that can never be erased! So… umm…. I still hope they get back together … That's it!"
Well, even after the divorce, Hrithik and Sussanne are co-parenting their kids and looks like they are doing a wonderful job. The dup go on vacations together with their children, celebrate birthdays and festivals together and even support each other in public. Recently, the rumours of them coming together were also surfacing the internet, however, a close friend rubbished the news.
More Bollywood stories and picture galleries
For all latest news and updates, stay tuned to our Facebook page