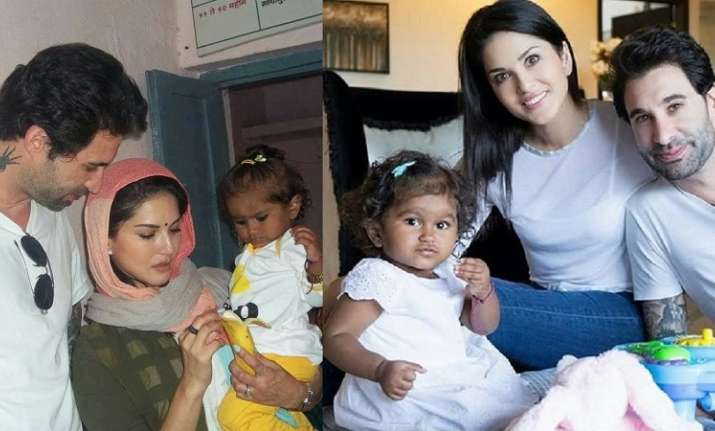 Sunny Leone is one of the women we need right now. She is honest and doesn't mince her words. In July 2017, Sunny and her husband Daniel Weber adopted a 21-months-old baby girl Nisha from an orphanage in Latur, Maharashtra. Sunny was applauded for her decision of adopting a child from backward district of Maharashtra. Today, the proud mother is celebrating an entire year of gotcha' anniversary of daughter Nisha Kaur Weber. 
Taking to her Instagram account, Sunny Leone posted a black and white picture of herself, husband Daniel and daughter Nisha. "One year ago today our lives changed when we brought you home with us! Today is your 1year "gotcha" anniversary and I can't believe it's only been one year because I feel I have known you a lifetime. You a part of my heart and soul and the most beautiful baby girl in the world! I love you very much Nisha Kaur Weber!", the caption read.
On Nisha's second birthday. Sunny tweeted a video from her preparations for the surprise birthday party. The Ragini MMS 2 actress  and her husband Daniel celebarted Nisha's second birthday in Disneyland.  "Surprising your baby girl for her second birthday. Priceless. Love you forever Nisha Kaur Weber," Daniel wrote alongside the video.
Surprising your baby girl for her 2 year bday !!! Priceless. XO !! Love you forever Nisha Kaur Weber pic.twitter.com/MnRSThl8iA

— Daniel Weber (@DanielWeber99) October 14, 2017
Sunny Leone also took to the micro-blogging site and tweeted: "Such an amazing day today to see all our friends and family. Our baby girl turns 2. The light of our lives! Happy birthday Nisha Kaur Weber."
Disneyland for Nisha's birthday!!hehe with the sweetest husband and papa ever @DanielWeber99 pic.twitter.com/nKDw8560LP

— Sunny Leone (@SunnyLeone) October 13, 2017
When Sunny Leone was questioned about revealing Nisha about her adoption, Sunny said that she plans to do so.
In an interview to Deccan Chronicle, the actress said that Nisha will not be only informed but also shown all details of her adoption process. ''Yes! Indeed we have to disclose this fact to her. Right fro the adoption papers and every minute things we have of her, will be shown to her. Nisha will have to know the fact that her mother did not abandon her. She bore her for nine months. I am not her real mom. But I am connected to her soul. I am her mom after adopting her,'' said Sunny.
The actress also revealed the story behind her decision to adopt a girl child. She said that her husband's family never had a girl and hence her father-in-law would keep insisting on that. The duo would often visit the orphanage and so during one of the visits, Sunny came up with an idea of adoption. ''Meine toh aise hi fenka tha (I just threw this thought to Daniel) and Daniel without an iota of thought immediately consented to my opinion. I was rather shocked but happy as well. Usually when a wife says something, the husband may contemplate on it and may or may not agree to it,'' said Sunny.