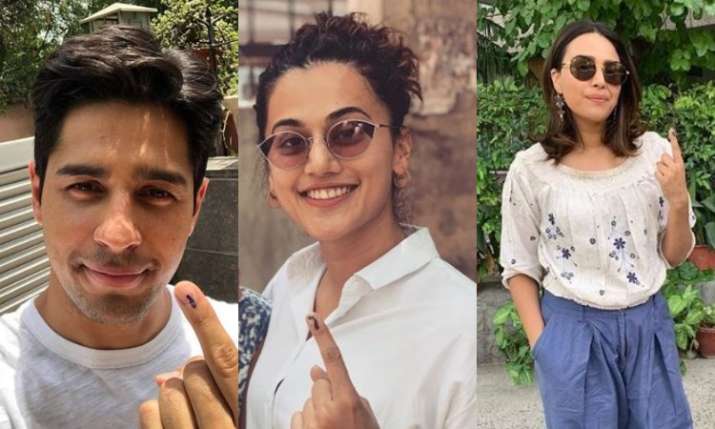 Lok Sabha Election 2019's phase 6 polling was conducted today. The phase 6 was crucial as National Capital along with Uttar Pradesh and West Bengal went to the polls. In Delhi where there's a triangular fight between Bharatiya Janata Party, Congress and Aam Aadmi Party, several Bollywood celebrities who hail from the state flew down to exercise their right to vote. From Sidharth Malhotra, Swara Bhasker to Taapsee Pannu and  Huma Qureshi, celebrities were spotted standing in a queue and waiting for their turn in order to cast their vote.
After casting vote, celebrities took to social media to urge people to do the same. Sidharth, who is shooting for Shershaah in Chandigarh arrived a night before in Delhi to participate in Democracy."Took a quick break and came to Delhi for this. I've done my bit, it's time you do yours! #VoteForIndia. This is the most important work that you would do today. #DelhiVoteKar,'' he wrote on Instagram along with a picture showing off his inked finger.
Taapsee Pannu marked Mother's Day as she shared a picture with his mum in which they both are flaunting their inked fingers. "Me and my maa for 'Bharat Maa' #HappyMothersDay #GoVote #FlauntIt,'' the actress wrote.
Huma Qureshi also stepped out to vote along with her family. Later, sharing a selfie with her mom, she wrote, "Me and Mom went to vote today !! #HappyMothersDay to the woman who taught me the difference between right and wrong, good and bad, who shaped me into who I am .. If only I can be half the woman she is."  
Meanwhile, Sawar Bhasker along with her parents waited patiently in the queue for her turn. Check out pictures.