Follow us on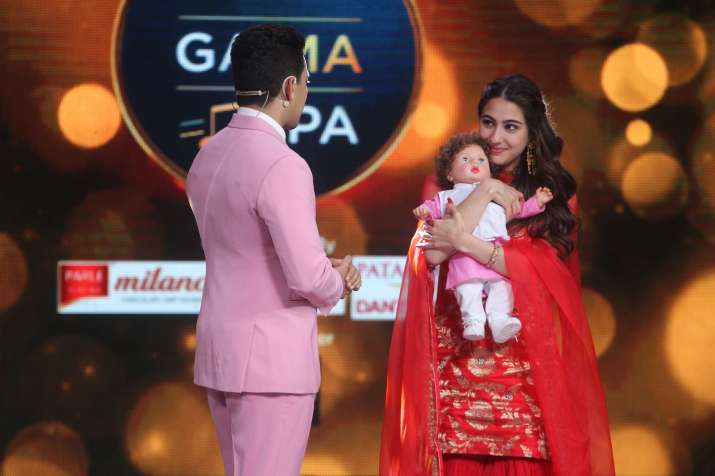 Sara Ali Khan might have smiled and heartily accepted the Taimur doll that was presented to her on Sa Re Ga Ma Pa, but this doesn't mean that she was entirely comfortable with it. While speaking to leading entertainment portal, the budding actress spoke how awkward it was for her to hold a plastic mannequin of her little brother in her hands while the team was asking her to feed it. Not only Sara Ali Khan, but Sharmila Tagore is also alarmed by this recent Taimur Ali Khan obsession. The Pataudi family is worried by the amount of attention this two-year-old is getting.
Recently when Sara Ali Khan visited on the reality show Sa Re Ga Ma Pa, she was present with a Taimur doll. She instantly hugged it and kept with her throughout the show. However, the actress was quite startled when she was given the doll. It became a little awkward for her when they gave her a milk bottle to feed her brother.
Sara Ali Khan recalled the incident on TimesNow. She said, "So, we were on this reality show called Sa Re Ga Ma and they gave me this doll. I think they realised that in front of Amit sir (Amit Trivedi) and Sushant (Singh Rajput) they shouldn't do this because they'll turn around and say this, 'It's a bit awkward.' But, 'Sara is Sara and she'll take it so, let's just do it'. And they have given me this doll and said, 'doodh pilaao bachche ko' and this that and the other and I was like, 'What's going on!' I was like, 'There is this lookalike of my baby brother in my hands and there are these bottles of doodh' and it was just...it was insane. Sushant and Amit sir were there and suddenly they weren't and there was the baby and I was like, 'Okay, then...' So, yes that was that."
This little rendezvous with Taimur doll has alarmed grandmother Sharmila Tagore. A source close to the family told a leading a daily, "The family is still trying to come to terms with Taimur's overwhelming popularity. Saif was summoned by his mom to discuss the issue. Normally, Sharmilaji is the most non-interfering mother you will find. But now with two-year-old Taimur being constantly in the limelight, she feels some measures must be taken to provide the child a normal life."
Going by these recent incidents, it seems like Saif Ali Khan and Kareena Kapoor Khan will now have to take measures to pull the strings on Taimur's ever-rising popularity.