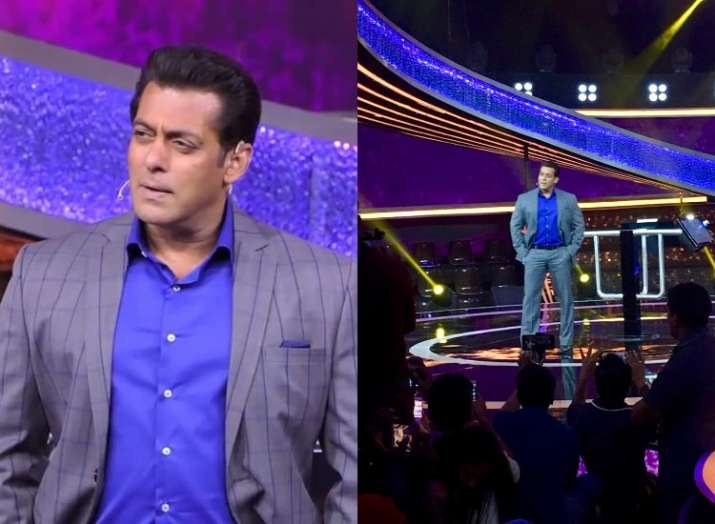 When Bollywood superstar Salman Khan made his television debut with "Dus Ka Dum" back in 2008, he was scared to open up his real self in front of the audience. But as he is set to come face-to-face with the common man through a revamped version of the game show, he said he has come to terms with being who he is in front of the people.
"This show came in first in 2008, and I marked my TV debut. There was a little negativity about me that time and I was really scared to come and show my original personality through 'Dus Ka Dum', but then I decided to come on TV.
"I felt that TV is the most powerful medium around, I asked my father whether I should do it because there will be the common man. I was scared of being me or who I am," Salman said at the show's launch here on Monday night.
Welcome to Dus Ka Dum 👏🏻😊🙏🏻 @BeingSalmanKhan for press conference 🕴🏻..

His voice 😍💕💕 #DusKaDum3 #DusKaDum pic.twitter.com/sLLY3f5YNX

— ❣️كارينا❣️ (@yumiekhan) May 28, 2018
Salman sought his father, writer Salim Khan's advise, who told him "this is what you are. Go and show the world who you are. If you're accepted, it's okay, if not, then change yourself."
He said unlike films when an actor takes on a non-fiction show on TV, that's when his or her own personality comes out.
"People accepted me the way I am, they got to know who I am," he said, narrating how after the show, villagers near his Panvel farmhouse forgot about "'Maine Pyar Kiya', Prem, Samir, Raja, Karan of 'Karan Arjun', and they remembered him and "Dus Ka Dum".
"It was then that I realized the power of TV."
He, however, finds it strange that a lot of the younger stars of Bollywood today seem to "look down upon the medium".
"I think that they think we came here to do films, and if they enter TV, they will get stuck there or 'We will lose the respect, people will look down upon us, they will laugh at us'. So they would rather not work than make those lakhs of rupees on TV that they will never make in the film industry," Salman said.
Salman sir on twitter trolls #DusKaDum pic.twitter.com/3zwiu1t64n

— Planet Salman (@PlanetSalman) May 28, 2018
On the satisfaction that he draws from television, he said it's about meeting people who come with no pretense and in that process, he lets go of the veil of superstardom too.
Salman, who has spent over two decades in the Hindi film industry, continues to be one of the biggest crowd pullers in Bollywood.
To a question by IANS about what is it about him that resonates with the country's "Aam aadmi", the 52-year-old said: "I have no idea and I don't want to find out... Because if I do find out, I will overdo it and that will not work for me anymore.
"The way I am, I just like to be the way I am and keep it at that. I guess people see that as far as talent is concerned, we can reach this... We can reach the way he lives, he's one of us... I think that is what it is."
The actor, who is currently out on bail after being convicted in a 1998 blackbuck poaching case, has been busy with one thing after another and he has been giving everything ample time -- be it Sonam Kapoor's wedding, the trailer launch of his forthcoming film "Race 3" or now the launch of "Dus Ka Dum".
That laugh is too precious 😭🙌❤❤❤#DusKaDum pic.twitter.com/RyVO8u0WnL

— Sana (@SanaAfsal) May 28, 2018
What keeps him going?
"The thought process is that every day that I work, those many salaries are going to those many people. So I'd rather work everyday than sit at home and go for a holiday. My life has been a holiday."
"Dus Ka Dum" is coming back on Sony Entertainment Television on June 4 after nine years.
There will be facts and some jokes from @BeingSalmanKhan .. that what makes this show so special. After 10 years its back ! #DusKaDum pic.twitter.com/125cZFLR6A

— ❣️كارينا❣️ (@yumiekhan) May 28, 2018
(With IANS inputs)