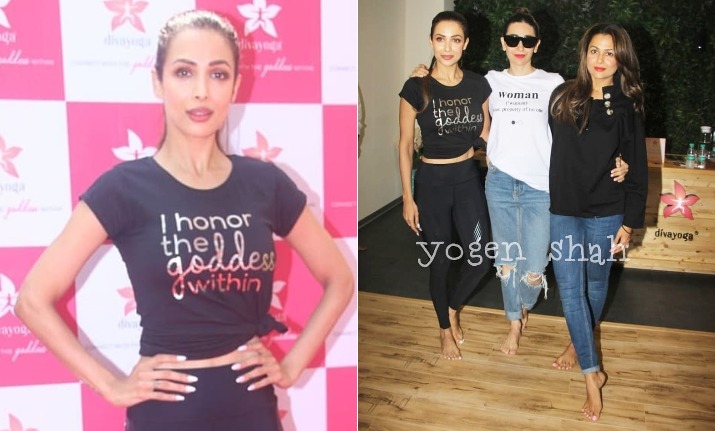 Bollywood has turned upside down with the ongoing #MeToo movement. Many biggies of the industries including Alok Nath, Vikas Bahl, Varun Grover, Nana Patekar and now Sajid Khan have been accused of sexually harassing women. Many women including some actresses, producers and journalists have mustered the courage to speak publicly about the sexual harassment they faced at the hands of powerful men in their respective industries.
Amid all this, Bollywood actresses Karisma Kapoor and Malaika Arora made some strong statements with their t-shirt. On Friday, the besties were present at Divayoga launch in Mumbai. Karisma wore a white tee with the text, "Woman: (noun) property of no one." On the other hand, Malaika Arora's tee reads, "I honor the Goddess within"
Another thing to be noted, this uprising of wronged women in the industry has begun in alignment with Hindu festival of Navratri. Navratri is celebrated to honour the feminine power of Goddess Durga. What a coincidence!
Recently, Alok Nath has been accused of rape by a former TV producer. Also, Tara actress Navneet Nishan has accused the veteran actor of sexual misconduct. One allegation led to another and now TV actress Sandhya Mridul also shared her harrowing account of sexual harassment that she faced while on an outdoor shoot with Alok Nath.
Renuka Shahane backed these allegations against Alok Nath. She even went on to say that many women confided in her earlier about these incidents. Recently, she shared her own #MeToo story which she went through while on an outdoor shoot in Delhi.
I remember you sharing this with me many many years ago. Brave of you to come out & talk about this harassment. You, @sandymridul & @vintananda My heart goes out to you brave women ❤🙏 https://t.co/3EG2lKoBDa

— Renuka Shahane (@renukash) October 10, 2018
Bollywood industry is also taking a strong stand against these alleged perpetrators. While legally, a lot has to be done against them, many A-listers of the industry have backed away from working with these alleged offenders. Recently, Akshay Kumar halted the shoot of Housefull 4 when Sajid Khan was accused of sexual harassment by three women.
October 12, 2018
Aamir Khan has stepped away from his upcoming project Mogul, which was supposed to be a biopic on T-series honcho Gulshan Kumar. Vikas Bahl has been ousted from Super 30 after the sexual harassment allegations.  
October 10, 2018
One thing is clear from everything that's happening for the past few days, #MeToo movement is really here and no one can stop it from happening. Last year, the movement was originated in the West with many Hollywood actresses coming up, accusing rape and sexual harassment at the hands of once-powerful producer Harvey Weinstein. Though a little late, but the cause has touched the Indian boundaries.