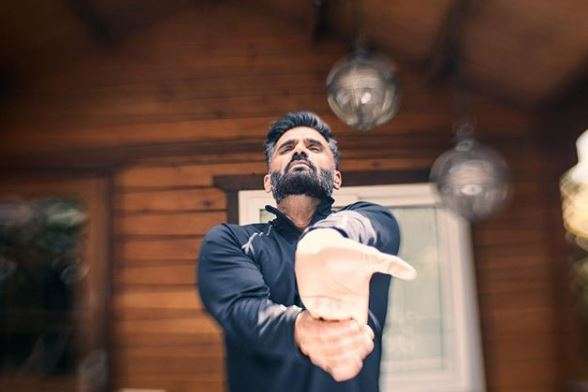 Suniel Shetty is one of those Bollywood actors who are extremely passionate about fitness and well being. The actor follows a strict fitness regime even at the age of 56. Suniel is currently a part of Mission Fit India, India's first and biggest Fitness and Wellness Festival to encourage mental and physical health.
In an exclusive interview to India TV, the actor spilled the beans on his body transformation and daily regime. Suniel said that he does yoga and a light gym workout everyday, however, his priority is yoga. ''My daily fitness regime is a mixture of yoga with light gym training. I concentrate on yoga more and it an hour or so every day. This is because no matter how fit you are or were as you get older, your body and muscles weaken. You have to tweak your fitness routine so that you don't harm your body, this is why I train with lighter weights now. I also follow my diet strictly. I eat natural foods and a lot of fruits. I also believe having breakfast like a king, lunch like a prince and dinner like a pauper. Follow this and you will rule your fitness quotient, '' the actor said.
Suniel revealed that his body transformation began at the age of 50 during his three-year hiatus. ''I have always been a fitness enthusiast even back in my school days but this transformation actually began after I turned 50. I was on this 3-year break, spending a lot of time with my son, Ahan. During this time, I also started training him and realised that, could have a lasting impression on him and everyone else by being fit myself. So, I started focusing a lot on my fitness and exercise routine as well as diet…and you can see the results for yourself,'' said Shetty.
He also has tips for those who want to start their journey toward fitness. The Hera Pheri actor suggests to start small and dream big. ''My only advice for people embarking on their fitness journey is that -start small and dream big. Try to make your exercise routine work around your schedule. Also, monitor your meals. Fitness isn't just about eating whatever you like and sweating it out. Fitness is about eating healthy and living healthy. Therefore, be careful about what you eat,'' he said.
Suniel will next be seen in the third instalment of hit comedy franchise Hera Pheri. The film is back with the original cast of Akshay Kumar, Paresh Rawal and Shetty. Talking about the excitement to kick-start the project, the actor said, ''To be able to bring the iconic characters of Raju, Shyam, and Babu Bhaiya back on the screen with Akshay and Paresh sir is something I am looking forward to. And yes, Hera Pheri is an iconic movie and people still talk about it and this reboot is going to bring the same laughs back. Moreover, I am an action and comedy hero and that's what I am going to deliver now and hopefully, people will be as excited as I am,'' he ended.
For all latest news, keep checking our Facebook page