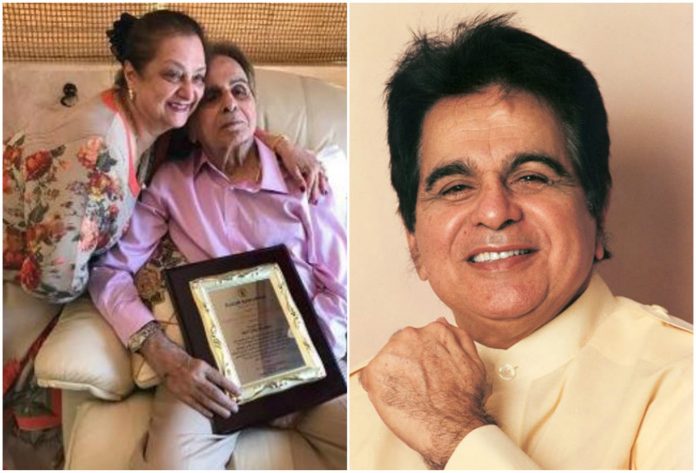 For actress Saira Banu it was like a dream come true to marry the legend Dilip Kumar. She always considered herself lucky to be part of Dilip Saab's life and today on his 95th birth anniversary, she has planned some beautiful surprises for the actor. 
The actor who is recuperating from pneumonia, received number of pre-birthday wishes on his 95th birth anniversary today.
The film fraternity and his fans are elated with his improving health news on his birthday. Thousand numbers of wishes keep pouring in daily for the legendary actor for his long and healthy life.
But Dilip Saab's lady love Saira is quite elated for the day. Saira revealing about her plans said, ''Message from Saira Banu: On Dilip Saab's birthday, as we get together as a family with Saab's brothers, sisters, relatives and some close friends, my thoughts reach out to all the wonderful fans and well-wishers for the duas and prayers for Dilip Saab. A million thanks. 1/n.''
Saira said it's a day when her residence get converted into a fairyland with numbers of visitors and well-wishers visiting them.  
She wrote, ''2/n What are we planning for the birthday, I am being asked repeatedly. Well, for those who don't know what we have been doing every year-it's a day when our residence turns into a gorgeous fairyland with flowers and floral arrangements from loving visitors which means a lot.''
But as he is recovering from pneumonia, this year it would be family event. She said, ''3/n Every year on Saab's birthday our house is open all day for friends and family to come and spend quality time with Dilip Saab. But tomm. will be bit restricted as doctors have advised Saab to be protected from any infection.''
3/n Every year on Saab's birthday our house is open all day for friends and family to come and spend quality time with Dilip Saab. But tomm. will be bit restricted as doctors have advised Saab to be protected from any infection.

— Dilip Kumar (@TheDilipKumar) December 10, 2017
Saira further said, ''4/n If you have read Dilip Saab's autobiography you would be familiar with his quote.... that the warmth of the clasp of the hand of strangers who approach him to tell him how much they liked his work is bigger than any award for him. God bless all of you.''
4/n If you have read Dilip Saab's autobiography you would be familiar with his quote.... that the warmth of the clasp of the hand of strangers who approach him to tell him how much they liked his work is bigger than any award for him. God bless all of you.

— Dilip Kumar (@TheDilipKumar) December 10, 2017