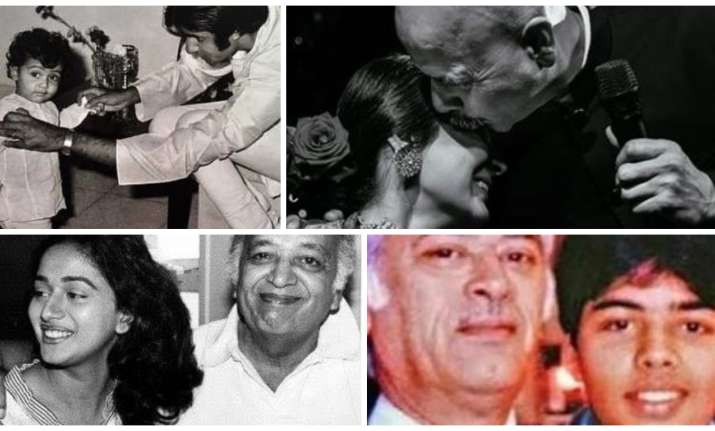 Fathers are superheroes, mentor, guide, philosopher and friend- all rolled into one. We know that a day is not enough to honour one of the greatest persons of our lives, however, we have a special day dedicated to all daddies out there. Father's Day is celebrated on the third week of June. This year it is on June 17. While the entire world is expressing their gratitude to their fathers, Bollywood celebrities too took to social media to share emotional notes. From Shah Rukh Khan, Akshay Kumar and Madhuri Dixit to Vicky Kaushal and Kriti Sanon, here's what the celebrities posted on Instagram:
Shah Rukh shared a photo of a card which read "You're the best papa in the world". He captioned it: "Notwithstanding that the kids had no other option and yeah I admit maybe there is just a hint of a bias here... This kinda completes a father's life."
Shraddha Kapoor: What more could I ask for when you gave me wings to fly? Happy Father's Day Baapu
Madhuri Dixit: Thank you for being there at every step of my life, Dad. You have always been my inspiration and a pillar of strength. You truly are the best. I miss you. I'm so grateful that my boys have an amazing father just like you. I wish a very Happy Father's Day to all Super Dads out there.
Akshay Kumar: Help! It's Father's Day and the little one asks "Dad, can I have a pet?" My fatherly love taking over, "Of course Beta what would you like?" She, "Dad, can you get me a unicorn with wings". Any suggestions?
Arjun Kapoor: My father has always thought a lot about others, how to help them, how to make things better for them, for his people, his friends, his family and his enemies even. In all these years, I have tried to make him realise it's time to become selfish and think of yourself first but he's a king, my father. He can never change his impulse to help and be there for others. Happy Father's Day to the most selfless man I know. I'm proud to be your son.
Kriti Sanon: They are unwavering in their support; steadfast in their love. And they also never miss a chance to crack a bad joke. That's why we love you dads. Happy Father's Day.
Sunny Deol: Because of my father, we are what we are today. Love you Papa.
Aditi Rao Hydari: Happy Father's Day Baba.... so much left to do, to be said.
Vicky Kaushal: Happy Father's Day Dad!
Karan Johar: He taught me the strength of goodness....the overemphasis on success and even the positives of failure....I miss seeing him but I talk to him everyday! He is my morning prayer....#happyfathersday
Anushka Sharma shared a heart-warming picture from her wedding in which her father is kissing her forehead
Abhishek Bachchan: For holding my hand and guiding my through it all....For teaching my by leading by example....For still holding my hand and for your unending love and support. Happy Father's Day! Love you Pa.
Happy Father's Day to all dads!