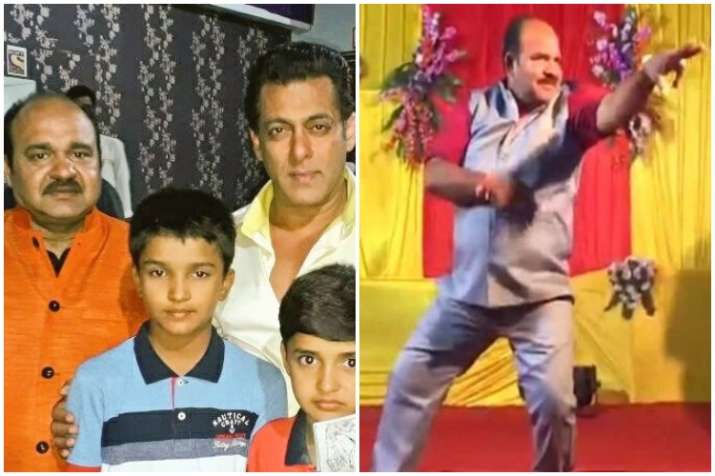 The latest internet sensation Dancing Uncle aka Sanjeev Shrivastava is on a heart-winning spree. After his video grooving to the tunes of Govinda's Aap Ke Aa Jane Se went viral on social media, his fate turned for the better. Just like Priya Prakash Varrier, Sanjeev is also receiving love. Not only this, it seems that all his dreams are turning out to be true. He has teamed up with Bajaj Alliance for his first ever commercial.
Me & My Family with @BeingSalmanKhan Bhai on sets of @duskadum2018 @SonyTV #DancingUncle #SalmanKhan #SanjeevShrivastava #SanjeevSrivastva #Aapkeaajanese #India #GovindaUncle #Bollywood pic.twitter.com/Ep3pIus6cl

— Sanjeev Shrivastava (@DabbutheDancer) June 7, 2018
He along with his family recently met superstar Salman Khan and also clicked pics with him. With so many renowned stars coming forward and appreciating his work, it goes without saying that Dancing Uncle's magic is not going to fade out so soon.
After his video went viral, Sanjeev is being treated like a celebrity. In his interview to IndiaToday.in, he said, "People have been taking selfies with me, even at airports, be it in Bhopal or Mumbai. I like the feeling."
Well, internet is an interesting place and it only takes one viral video to become a star. Who would have thought that an assistant professor of Electronics from Madhya Pradesh will be skyrocketed to fame? Life is indeed turning out to be wonderful for Sanjeev.
Few months back, Priya Prakash Varrier's winking video from a Malayalam film also became the talk of the town and she was being called as Nation's crush.