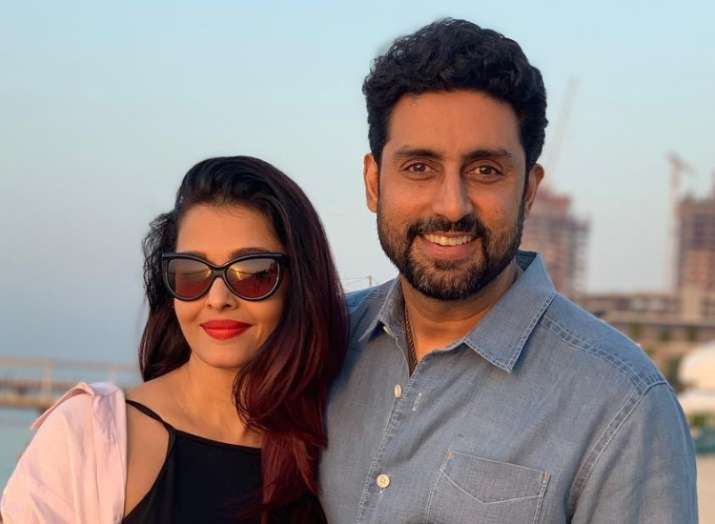 Bollywood's most enchanting couple Aishwarya Rai Bachchan and Abhishek Bachchan always make the headlines whenever they appear together in the public eye. Even if they aren't seen together, everything about them intrigues the fans. Recently, Aishwarya went on record to talk about various aspects of her personal and professional life and as much as she talked about her career in Bollywood, the blue-eyed diva revealed the things on which she and husband Abhishek Bachchan argue a lot. Revealing interesting details about her married life, Aishwarya said that both, she and husband Abhishek are two strong personalities and the opinions are bound to collide at times.
Talking to Filmfare about her life, Aishwarya revealed, "We're both genetically very generously been given very strong genes. So, we're inherently very strong personalities. I think there is a very fine line between arguing and discussing and that's something we're still arriving at discovering what is what. So, we discuss a lot, either politely put it as discuss, probably argue but…"
When asked if any habit of Abhishek Bachchan leads to the argument, she said, "It has been 12 years and how many years before that we've known each other as friends. We've known each other through quite a long time. We've always conversed a lot and communicated a lot, in all its shades, in all the colours of the rainbow."
When asked who plays the Good Cop and Bad cop when it comes to daughter Aaradhya, Aishwarya said that everyone at home are just very good to her, however, don't spoil her. Aishwarya also spoke about the proposal and 'roka' ceremony and said: "He proposed, which was amazing! And it happened like really suddenly. I didn't even know there's something called a 'roka' ceremony. We are South Indians, so, I don't know what a 'roka' is and suddenly there is this call from their house to ours; 'we are coming'. And we were like, okay. And I'm like, dad? He was like; it will take him one more day (to come)."
"Abhishek was like 'we are all coming and I can't stop dad. We are on our way. We are coming to your place'. I'm like, 'Oh my God!' So, this 'roka' is happening with a call to my father, who is out of town." Speaking about that moment when it all changed suddenly for her, Aishwarya said: "Mum is here, we are here. They've all arrived home, they are emotional and all. I'm like, 'Oh my God, it's happening.' Then it's like, 'come on, let's go home'. I'm like, 'Mom, okay... is this...is this an engagement? Like, what just happened?' 
Aishwarya and Abhishek will complete 12 years of marriage in April this year. Also, the duo will be seen together on the big screen after eight years in Anurag Kashyap's next Bollywood film Gulab Jamun. The duo was last seen together in Raavan.
More Bollywood stories and picture galleries
For all latest news and updates, stay tuned to our Facebook page