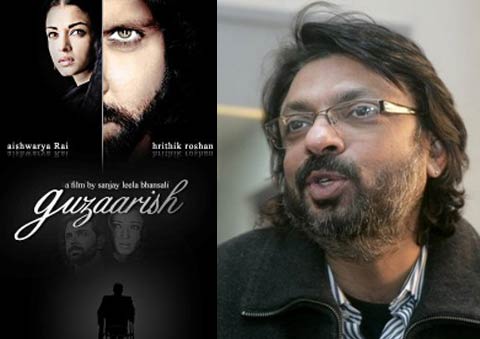 Bollywood film maker Sanjay Leela Bhansali has been sent a seven-day notice by veteran writer and director Dayanand Rajan, in which the latter has claimed that the stryline of his unpublished novel "Summer Snow" has been lifted in its entirety  for the film Guzaarish, says a media report.
Bhansali says he is not aware about the notice.
Raajan has sent the legal notice to the producers, UTV and SLB, asking them for an explanation on how their film has so many similarities with his novel.
A seven-day notice period has been given to the producers, failing which Dayanand will move court to get a stay order on film's release.
"The film "Guzaarish" has many similarities with my novel. It's shocking that the main plot, the love story, the hero being wheel-chair bound due to an accident and even the mercy killing are the same as in Sanjay's movie. I had shown my novel to some people in the industry but I have no idea who leaked it to the writer of the film," Dayanand said.
There are many uncanny similarities that the writer says he unearthed between his novel and "Guzaarish" that made him suspect plagiarism.
According to him, both scripts are positioned as love stories with mercy killing as a key point.
Goa is a backdrop in both, as is the religion Christianity. Like in the book, in the movie, too, the hero is a famous public figure except that while Hrithik is a magician in SLB's movie, in "Summer Snow", the man is a dancer.
The other similarities include a serious accident in both the scripts, which got the protagonist confined to the wheelchair, to the woman taking care of him – it is the nurse who falls in love with Hrithik while in the novel it is his wife who looks after him.
Both scripts also have key flashback scenes and the woman supporting mercy killing for the hero.
Dayanand says that by taking legal action, he is merely trying to save his novel. "I have the deepest regard for Sanjay but it (the novel) is an effort of a lifetime that has gone waste. Neither will this novel ever be printed nor can it be made into a film ever," he says.
In the recent past, allegations against filmmakers just before the release of their movies has become quite frequent.
Of these, most have been found to be fake cases to get publicity.
Dayanand defends himself ,saying, "The very fact that we have sent the notice well before time and not just before the release of the film is because we want to be fair to the parties. We expect them to analyse the case and settle the issue."
It is also being alleged by the writer that SLB's office refused to accept the legal notice.
An oficial from SLB's company, on condition of anonymity, said, "How does he know so much about our movie? We haven't shown it to anyone yet. We will take whatever course of action is necessary."