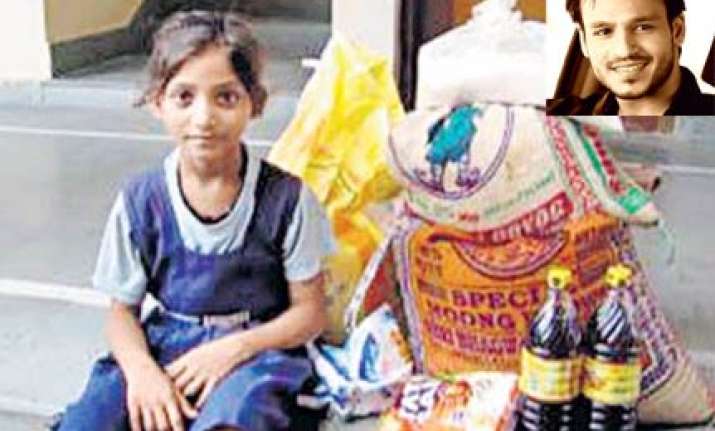 Bollywood actor Vivek Oberoi has adopted a family in Vrindavan after its sole earning member died of cancer.
"Last year, when Vivek was celebrating his birthday (September 3) in Vrindavan, Shehzad Quereshi (33), who lived on the outskirts of the town, came up to him and told him he wanted  to give something to Vivek rather than taking anything from the actor," the media report quotes a source close to the actor.  
It was a very moving and emotional moment for Vivek.  "Shehzad, who had cancer, said he wanted to die peacefully. He had a wife and four children aged between three and nine years, and they would be left destitute after his death, unless Vivek took care of them," the source said.
A shocked Vivek immediately agreed to do so. "Shehzad's family was almost on the streets as his medical expenses had left them broke. Vivek adopted the family and has been sending them money for rent, food ration and medical expense from his personal account."
"This year, Shehzad passed away and Vivek had gone this month with
Sushmita Sen
to meet all the children from Project Devi (which provides free healthcare and education to over 1,200 underprivileged girls).  
Here, Sushmita met two of Shehzad's daughters, Saniya and Sareen. Vivek Oberoi  shares a special bond with 7-year old Saniya who keeps writing to him. Vivek will now keep supporting the family and will take care of them," added the source.
Vivek said, "My little angel Saniya sent me a picture today and said it was her way of saying thank you for supporting and taking care of her family's needs. Life gives us so much so many things that we just take for granted. Saniya lost her father to cancer this year, she saw him become weaker and thinner every single day and then one day he died."
"This little 7-year old angel somehow still has the strength to smile, the wisdom to appreciate and the grace to be grateful.  These are qualities I admire in her and these are the things she teaches me and inspires me to learn!"