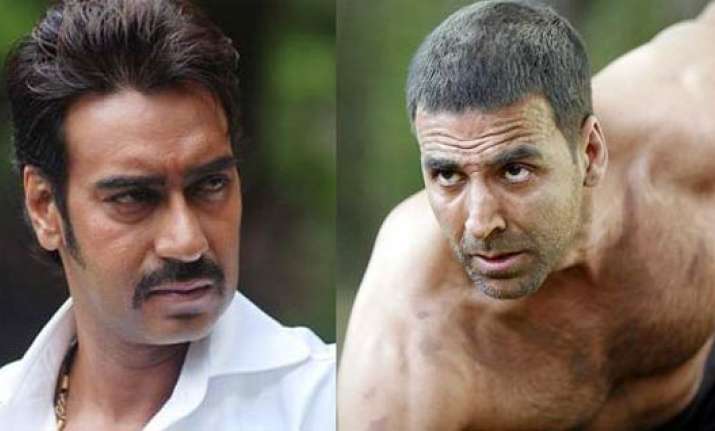 Bollywood actor Ajay Devgn's sudden decision to release his film Toonpur Ka Superhero with Farah Khan's Tees Maar Khan on December 24 is being attributed to the doings of Shah Rukh Khan. But the real reason has lots to do with TMK's hero Akshay Kumar, says a media report.
Bollywood's latest star war is now between Devgn and Akshay. Insiders say the two stars, of late, have been running each other down due to the recent box-office clashes of their projects.
Says a source, "Ajay deliberately decided to release Toonpur Ka Superhero on the same date. He has been abusing Akshay's latest flick Action Replayy saying that if it had not come out along with his movie Golmaal 3, the collections of G3 would have been several notches higher."
Adds the source, "It was Akshay's idea to release Action Replayy during Diwali. Producer-director Vipul Shah was not too keen but Akki was insistent. Ajay is aware of this fact and now feels it is payback time. He wants to eat into TMK's business just like AA ate into G3's share."
Speculation is that SRK influenced producers Eros International to postpone the release of Toonpur Ka Superhero from December 17 to December 24 as King Khan did not want TMK to be a solo release.
Reason? Farah's decision to cast Akshay in her project did not go down well with SRK.
The source continues, "Though the Toonpur folk are claiming that as an animation flick, it is best suited for a Christmas vacation release, it isn't an excuse Akki is falling for. He knows exactly that all this is Ajay's doing to give it back to him."
Ajay's spokesperson however says, "This is not true. We are releasing Toonpur Ka Superhero on December 24 as it is a family/children's entertainer and hence, is the right time to release during the Christmas holidays."
Vipul Shah's Akshay-starrer Action Replayy clashed with
Rohit Shetty
's Golmaal 3 during Diwali 2010.
During Diwali 2009, the Ajay Devgn-starrer All The Best (which he had also produced) clashed with Anthony D'Souza's Blue that starred the Khiladi.
The History
The Akshay Kumar-Ajay Devgn clash heightened after both the stars were seen together in Rajkumar Santoshi's 2004 flick, Khakee.
According to those in the know, Ajay was appalled by how Akki would keep track of his every scene in the film and express his reservations if the other stars had more screen space and have his way on the editing table.
Earlier Ajay was not happy with the Khiladi's interference during the making of Suhaag as well. Both the stars started off as action heroes and later did lighter comic roles.
They have consciously avoided working with each other since 2005. Producers have approached them but they would cite date reasons and steer clear of each other.