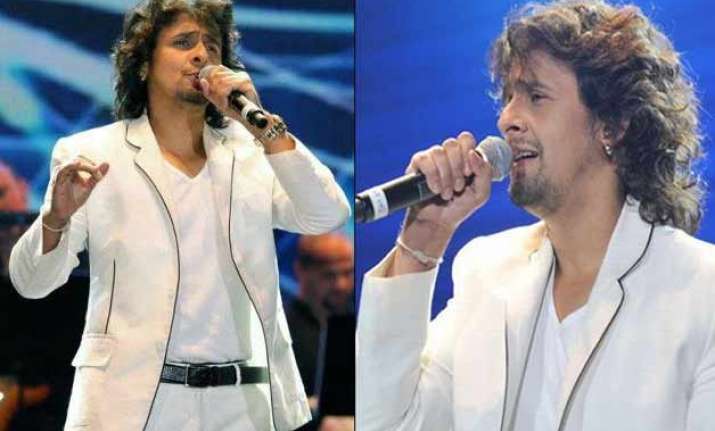 New Delhi: "When you are happy, you enjoy the music. When you are sad, you understand the lyrics." But with a singer like Sonu Nigam, you don't need different situations to enjoy the song.
 
Born to parents Agam Kumar and Shobha Nigam on July 30, the singing star Sonu Nigam turns 42 today. A singer whose soulful singing is capable to give you goose bumps has seen a career spanning two decades. Sonu Nigam has been praised for his songs and also been compared to the legends of Md. Rafi and Kishore Kumar various times.
 
Having many superhit songs to his credit across genres and languages, Sonu Nigam has sung a song for every mood. It's hard to pick up favourite songs from Sonu's glorious career but here is a list sighting why Sonu Nigam perfectly explains your feelings.
 
Kal Ho Naa Ho
You can never get enough of this song. Sonu Nigam was awarded the best male playback Filmfare award for this one. Don't tell us you don't just want to go and tell your loved one how much they mean to you every time you listen to; "Chaahe jo tumhe poore dil se milta hai woh mushkil se, aisa jo koi kahin hai bas vohi sabse hasin hai, us haath ko tum thaam lo woh meherbaan kal ho na ho"
 
Abhi Mujhme Kahin
This song went on to become the soul of 2012 movie 'Agneepath' starring Hrithik Roshan and Priyanka Chopra. So much so, that not one public appearance goes without Sonu Nigam singing this  song for which he again won a Filmfare award for Best Playback Singer. This song has the power to stir emotions in everyone.

Saathiya
A.R. Rahman's music, Gulzar's lyrics and Sonu Nigam's amusing voice, you just gathered the ingredients for a perfect song. Sonu Nigam won the Filmfare award for Best Male Playback Singer in 2002 for this title track of the Rani Mukherji - Vivek Oberoi starrer 'Saathiya.'
Sooraj Hua Madham
The lyrics, "Mai thehra raha zameen chalne lagi" sums up your emotions and Sonu's mesmerising voice does magic in ways that only your heart can decipher. From the 2001 release 'Kabhie Khushi Kabhie Gham', this song celebrates your first love with you.

Ab mujhe raat din
This song from the 1999 album 'Deewana' is just what you need to hear when you get butterflies in your stomach thinking of someone. The different tones of Sonu Nigam's voice plays with words so brilliantly, you wish to thank him every time you listen to this.
Yeh Dil Deewana
This song is among the breakthrough songs of the singing star. Released in 1997, 'Pardes' was a huge hit and the songs are still fresh in the memories of the audiences. This song shows supertsar Shah Rukh Khan on a journey full of enthusiasm, which is exactly what you feel when you listen to it.
Mujhe raat din bas muje chahti ho
 The 1999 movie Sangharsh was a serious movie having a strong storyline. But that didn't stop Sonu Nigam to singing one of the most melodious songs ever. Apparently, the actors Aman Verma and Preity Zinta aren't close to each other in this song sequence and the song is a telephonic conversation between the two. So, the next time you have to dedicate a romantic number to your long distance soul mate, you know which song to go for!

Sun Zara
Salman Khan romanced a debutant Sneha Ulal in the 2005 movie 'Lucky: No time for love'. Set against the riots of Russia, this movie wasn't a blockbuster at the box office. But this song was! If you are short of words, turn to this song to express your love for your beloved one!

Inn Lamhon Ke
 The eternal love of 'Jodha and Akbar' got depicted in this song. Don't you think yours would too? To add to the charm Sonu's voice, AR Rahman's music and Javed Akhtar's words made this song so beautiful; you can play it on repeat and will not get bored of it.

Guzaarish
Aamir Khan starring 'Ghajni' was a huge success. Equally successful were the songs, especially 'Guzaarish' sung by Sonu Nigam. You can totally relate to this song as it expresses the longing for one's sweetheart way too well.
 
Sonu Nigam has sung in other languages including Oriya, Tamil, Assamese, Punjabi, Bengali, Malayalam, Marathi, Telugu and Nepali. No matter what the language, or the emotion of the song, Sonu Nigam's magical voice has the power to communicate straight to the heart.
 
Here's wishing the star a very happy birthday!