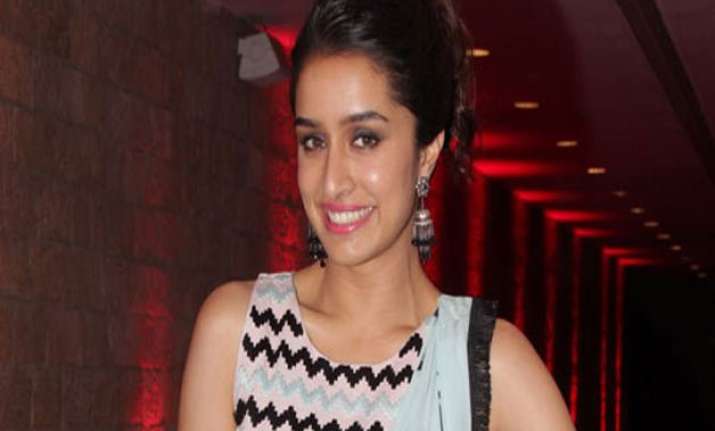 Mumbai:  Actress Shraddha Kapoor loves visiting Dahi Handi events here on Janmashtami and, this year, she is receiving a lot of requests from various organisers to come and attend the festival with them.
The "Ek Villain" actress herself says that she would love to visit such events, but her team is figuring if she can make time for one of them in the middle of her shooting schedule.
"It is so overwhelming to visit these places and receive so much love from people there. The last time when I visited Baramati, they kept calling me Aarohi (character from 'Aashiqui 2'. When people remember the name of your character, it means a lot. I would love to make more such visits," Shraddha said in a statement.
Several organisers are said to have invited the "ABCD 2" star to come and celebrate Dahi Handi festival with them.
This year's Dahi Handi festival will be celebrated on September 5.
 (17:08) 
New Delhi, Aug 10 (IANS) Film production and distribution company T-Series has lodged a complaint against veteran tennis player Mahesh Bhupathi's production house for alleged involvement in cheating and copyright infringement over Vipul Shah's upcoming film "Namaste England".
The production house has filed a criminal complaint against Bhupathi's Blue Whale Motion Pictures on multiple counts, including criminal breach of trust, breach of confidence, wrongful disclosure of confidential information, copyright infringement and cheating.
According to a statement, producers Bhupathi, Virender Arora, Prerna Arora and Arjun N Kapoor have been served with a legal notice by T-Series's lawyers alleging that the producers have defrauded T-Series by setting up dummy companies to enter into agreements with third parties for independently producing the film without either informing T-Series or without taking their consent. 
Ajay Kapoor, a director of T-Series, confirmed that a complaint has been filed before the Delhi Police Crime Branch in this regard.
"We have a valid, subsisting and irrevocably binding MoU, dated June 10, wherein T-Series is co-producing the film 'Namaste England' as one of the owners in the IP of the Film. 
"Further, all rights in the music and audio visual of the said film has also been assigned in our favour. Any attempt by any party to circumvent and/or negate the said MoU or wriggle out of the contractual obligation shall tantamount to copyright infringement, fraud, unfair business practice, dishonestly misappropriating property, criminal breach of trust, cheating, breach of confidentiality and wrongful disclosure of confidential information," Kapoor said. 
As the case goes, Blue Whale Motion Pictures signed a Memorandum of Understanding with T-Series for jointly producing "Namaste England". 
In the same MoU, T-Series was also assigned exclusive music rights and IP in the Akshay Kumar-starrer.