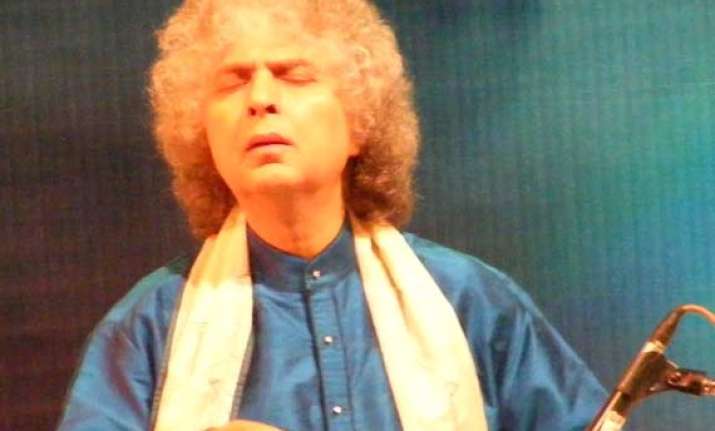 New Delhi: Do you know that santoor maestro Pandit Shiv Kumar Sharma had refused a role in Khwaja Ahmed Abbas' "Saat Hindustani" and V Shantaram's offer of a music director in one of his films?
Sharma's compositions in several Bollywood movies in collaboration with legendary flautist Hariprasad Chaurasia notwithstanding, he, at the beginning of his career, was not inclined towards something apart from the santoor. "Khwaja Ahmed Abbas offered me a role of one of the heroes in his film 'Saat Hindustani'. A young man could have easily been swayed but I stuck on, believing that my destiny lay in the santoor," Sharma recalls in a book on him 'Shiv Kumar Sharma: The Man and His Music' by writer-curator Ina Puri. In 1955, Shantaram offered him a film as a music director. Sharma was 17 years old and turned it down saying his calling lay elsewhere.
Yet later, there came a time when apart from classical music he was taking assignments to play in films. He says his father and guru Pandit Uma Dutt Sharma introduced him to playing the santoor but "never told me 'No, don't play for films'. He was confident that I was serious about my santoor and kept that faith in me". The Jammu-born Sharma, winner of prestigious awards like Padma Vibhushan, Padma Shri and Sangeet Natak Akademi, is credited with making the santoor a popular classical instrument.
He, however, rues that a "materialistic attitude has crept" into the profession. "Musicians are trying out shortcuts by different means in order to be in the news and to promote themselves. I think this is not the right path to reach your destination. The right path is to do your work sincerely and prove yourself every day, in every concert," he says.
According to Sharma, his music is different today than what he was playing some 10 years ago. "I'm not playing with that kind of speed now. A musician cannot maintain the speed of music after a while but we don't accept that. We don't want to accept it. I will play my music till the day I feel I am doing justice to this instrument. The day I feel, because of my age or any other factor, that I am not doing justice to my music, I'll give up playing in public."
The book, published by Niyogi, seeks to capture the extraordinary life and times of Sharma and his journey with the santoor. It takes the reader on a journey that goes back to a time when the maestro first started out as an adolescent learning the rudiments of Indian classical music under the guidance of his father.
It traces, through text and rare photographs, the life of the young boy who dared to dream that he would make his name among the greatest musicians of the country and then went on to receive the achieve the legendary status. Pandit Vijay Kichlu, an old friend and classical singer, shares anecdotes from his earliest memory of how he saw Sharma establish the santoor in the highly competitive field of Indian classical music.
"In Kashmir, musicians keep the santoor on a wooden stand in front of them while playing it. This gives an extra resonance, which is often disturbing. Shivji was the first musician to keep the santoor on his lap while playing and this helped to eliminate the resonance.
"Placing a weight of eight kg on the lap is not easy. Further, it has to be played for hours at a time. Indulging in delicate intricacies and skills with perfection needs an extraordinary strength of posture as well," he says. In order to achieve this, Kichlu says, Sharma had to turn a yogi not only in terms of physical asanas but in meditation as well.
"Till today, he practices yoga in its purest form. His gait, his sitting posture, in fact his total personality is ample evidence of the fact that he is not only an extraordinary musician but also a yogi," he says. Film historian Manek Premchand writes about the maestro's long innings as a music composer in the Hindi film industry. He also writes about Sharma's stint as a musician, when he was associated with the legendary music directors of the day such as S D Burman and Naushad.
Chaurasia credits Sharma with teaching "me to discipline my energies. He made me do riyaz, attend classical music concerts and devote my hours to perfecting the bansuri. "He made me understand the futility of wasting time in trivial pursuits when the Indian classical scene was primarily dominated by the sitar, sarod and shehnai. He made me realise the urgency of staking our claim at this critical juncture".