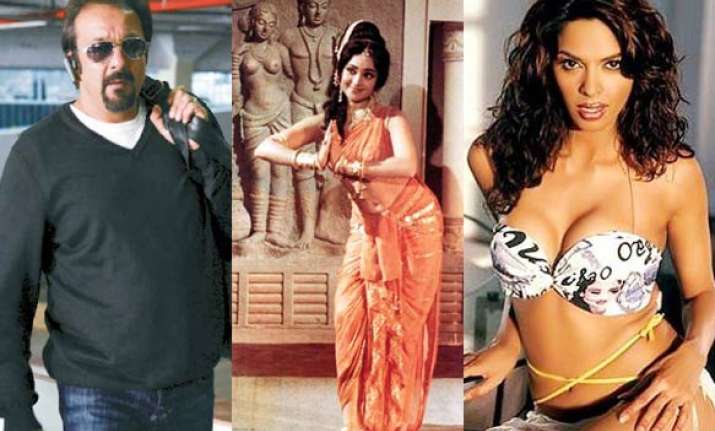 Bollywood star Sanjay Dutt is so conscious of his image that he has point-blank refused to do a film  called Amrapali opposite  hottie Mallika Sherawat, doing the glam role, says a media report.
The report says, when Sanjay learnt that the makers wanted Mallika to play the role of Amrapali played in the Sixties by  Vyjayanthimala, he had second thoughts about the project.
The report said, it is not clear whether Sanjay was uncomfortable working with Mallika on a personal level, or  he had doubts about Mallika's ability to do an Amrapali  but he made it amply clear that he didn't want to work with the bold actress.
The report cited a source, "When the makers first went to him, they hadn't zeroed in on the actress. At the time, Sanju was open to discussing the possibility of being a part of the film. When they returned to him a few weeks later, and suggested casting Mallika in the film, he decided to back out. He said he had date problems and excused himself from the project."
Sanjay and Mallika are in Dhamaal 2 together, but they are not paired with each other.
They've shot for one schedule already and it was obvious to everyone present on the sets that there is no love lost between them.
They haven't managed to break the ice and keep  distance from each other.
The report quotes a source: "Sanju and Mallika have an cold war going on. It has something to do with the comfort he shares with Kangna Ranaut, who's also acting in the film. He is very fond of his Knock Out co-star, which has obviously not gone down well with Mallika. Also, he disapproves of her raunchy image. In fact, he had named her a badly dressed celebrity on Koffee with Karan a few seasons back."
Now that Dutt is out, the producers are figuring whom to cast opposite the Sexy Sherawat.