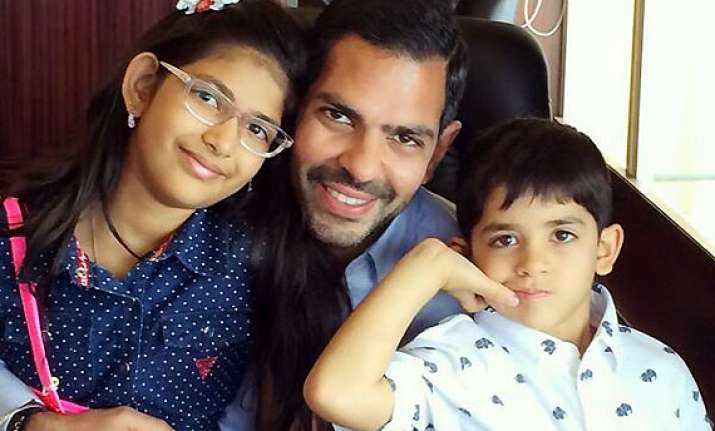 Sanjay Kapur has come out open for the very first time and displayed love for his kids in this most hearth whelming pic.
Karisma and Sanjay have never gone public with their split but with reports of them filing for divorce have surely got the wind of viral gossip.
Reportedly, the couple and their family are trying to find a way to make it a smooth transition for the kids, Samaira and Kiaan.
Sanjay Kapur has never made any public appearance nor has he given any public statement regarding his life. But this time, the father of two had gone ahead and put behind his inhibitions.
Sanjay Kapur recently shared this pic where he could be seen with his two darling kids sitting on his lap with a caption, "Being a father is the best job I could ever have. Thank you for the best Father's Day ever. Love you the most!"
Karisma who had been on a holiday with her kids seems to have let their father spend some time with them too.
Karisma's sister and Bollywood's leading diva Kareena Kapoor had recently said, that she believes, "Lolo (Karisma) is a great mother and Sanjay is a responsible father."
Karisma and Sanjay Kapur tied the knot in September 2003, months after Karisma called off her engagement with ex-beau Abhishek Bachchan. The duo was blessed with their first born in 2005, a baby girl they named Samaira.
The couple had a turbulent marriage soon after and Karisma walked out of Sanjay's home & took along Samaira with her.
With guidance and support from their families, the couple decided to give their marriage another shot and Karisma went back to Sanjay. In the following year (2010), the couple was blessed with a son Kiaan.
Their marriage hit the rocks again and this time Karisma made a final exit from Sanjay's life. She had been ever since staying in Mumbai. Earlier this month the couple's divorced was finalized.