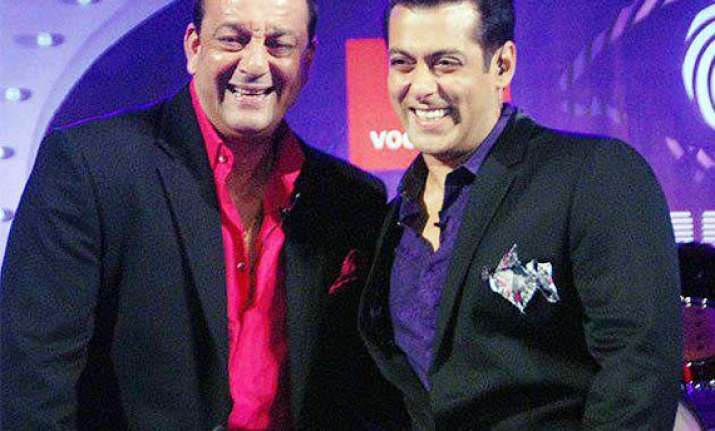 New Delhi: Sanjay Dutt and Salman Khan share an unmatchable bond in Bollywood, both on and off screen. So much is the affection between the two that the one considers the other as his 'brother from another mother.'
While Salman Khan must be raving for his #Kick, Sanjay Dutt is serving his jail sentence in Pune's Yerawada Jail now.
But as the industry's lovable 'Sanju Baba' turns 55 today, we give you a brief glance over his brotherly bond with none other than the 'bhai' of the industry, Salman Khan.
While both the actors share quite a similar persona, it's Sanjay who always remains protective about Salman. In an interview given a few years back, 'baba' even claimed that he wants Salman to adopt and learn from his good side only and not from the bad one.
Apart from giving a few of the brilliant films of their career together viz. 'Chal Mere Bhai,' 'Saajan', these two actors were even praised for their instant chemistry while hosting Bigg Boss 5 together.
Not only are they controversy's favourites in Bollywood, but also they are alike when it comes to chill and think in terms of paying 'damn to the world.' Both Dutt and Khan are popular for doing whatever they feel like fearlessly. They do not even escape making fun of the issues they both have been rolled into at a point.
Such great and unconventional camaraderie lies between the two that Mr. Dutt didn't forget to visit Salman Khan on his birthday despite being out on parole. He made a quick visit to his Panvel farmhouse and thus added another feather of loyal friendship to his cap.
Salman too, many a times has been seen doing a cameo appearance in many of Sanjay Dutt's films. For all of you who have seen those on Bigg Boss must remember that Salman even countered and yelled on one of the contestants who showed disrespect towards Sanjay Dutt and walked away while he was talking to him (contestant).
Though, it's unfortunate that Sanjay Dutt is serving a three and a half year of his remaining jail term, after being convicted under the Arms Act for illegally possessing banned arms and ammunitions. We wish his ever-so-close bond with Salman Khan sustains for all the years to come!