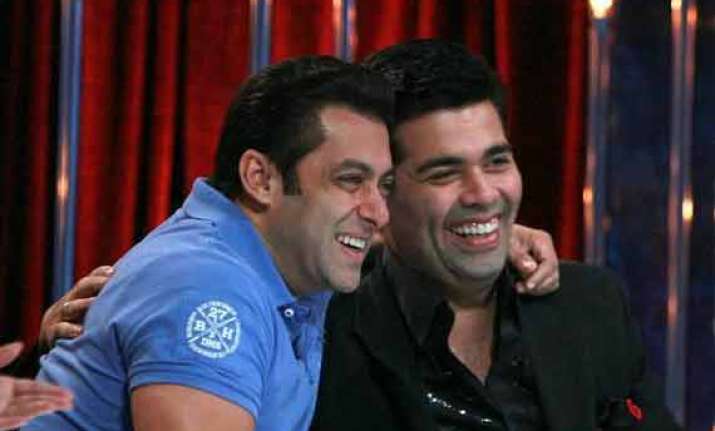 New Delhi: Salman Khan's 'Kick' is roaring at box office and may accomplish the Rs 200 cr mark soon since, It has already made Rs 160 cr.
There's no doubt that Salman Khan is one of the bankable actors in B'town and is well versed with the commercial aspect of the market. With 'Kick' inching closer to hit the double ton, Salman Khan is planning to cash on its success, his credibility and goodwill through his next projects and the first one that comes on his list is none other 'Shuddhi'.
Salman Khan after 18 long years will be working under Dharma Production owned by Karan Johar and what a comeback it is in the firm. The actor is charging a whooping Rs 150 cr from the producer for 'Shuddhi'.
However, Karan Johar has taken a jab on the social media platform quoting, "Apparently I have paid 300 crores to 2 major super stars...yes!! If this is true then I am also looking for a job,a house,and a LIFE!!". We aren't sure if this comment has anything to do with Salman Khan's demand but according to reports, the actor has asked for the money that will come in from the satellite rights, the first day collection of the film and 20 per cent of the profit that Dharma Productions will make on Shuddhi.
This is the first occasion that any actor has claimed the first day total of a film.
"With the box office collections of Kick, it's established that releasing Salman's films around festivals is a commercially viable idea. How he asks for his remuneration, whether through a flat fee or a share in profits, is Salman's prerogative. If the producer is making money because of Salman, he is justified in asking for profits from various sectors," a trade expert said.
According to trade analyst and film critic Taran Adarsh, "In Hollywood, the trend of actors coming on board as partners with the producer or the studio has been around for a while. However, it's certainly a new concept in the Hindi film industry."
"I feel Aamir Khan, Shah Rukh Khan and Salman Khan deserve profits from their films because their presence makes their projects larger than life", he added further.
Salman Khan has over three more flicks such as, No Entry Mein Entry, Prem Ratan Dhan Payo, Bajrangi Bhaijaan among others. Will he keep the similar profit sharing ratio in all these flicks is not yet known but it won't be surprising if he does so.
However, if we look at the other stars Aamir Khan maintains quite a similar approach before signing his flick. According to a leading daily, the actor in his last blockbuster 'Dhoom 3' demanded over 33% share of profit from YRF's, which is far more than their initial fees. 
Since, they are associated with the flick right from the beginning till the promotion and now-a-days post release promotion is the new trend for the flick. Akshay Kumar and Shah Rukh Khan too have been following this function of profit share. So, looking at them, seems like it's a late awakening for Salman Khan.
Shuddhi is set to release in Diwali 2016 as confirmed by Karan Johar himself on the social media platform.