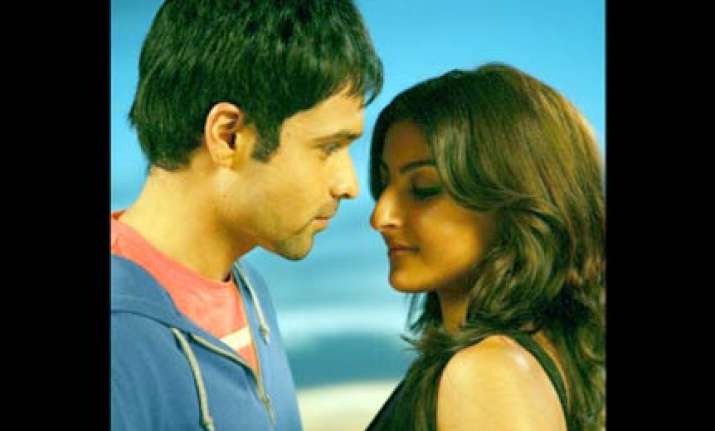 With less than a week left for the release of his forthcoming film 'Tum Mile', actor Emraan Hashmi today described his role in the film as one of the best in his filmy career. 
"For me it's one of the best roles of my career. It's something that comes only once or probably couple of times in an actor's career... when they have such a different kind of role. And acting in 'Tum Mile' was an incentive for me," Hashmi told reporters in Hyderabad.
Hashmi, who is paired opposite to actress Soha Ali Khan in 'Tum Mile', was in city along with film's director Kunal Deshmukh and Mahesh Bhatt to promote the film, which is a love story in the backdrop of Mumbai floods happened on July 26, 2005. 
"It's (serial kisser tag) something that I have been wanting to change for a long time. I think I'm inching towards it. I definitely want the audience to look beyond that image," Hashmi often dubbed as Bollywood's 'Serial Kisser', said. 
And films like 'Tum Mile' will definitely change that for me. The role in the film is something new for me that I will bring to you (audience) than other characters I have played in all my other films," Hashmi added. 
Speaking about the film, Emraan Hashmi, said " Tum Mile is a love story something that without boasting I think it would definitely change the redeem of how we see romance at least in Bollywood. It's not a traditional filmy kind of romance on screen, I think it's a very ace and honest script." 
"It's something... that all youngsters anyone who has been in love, anyone or who is about to fall in love can relate to these characters. 
The great moments in love and the obstacles that come along with relationships, and of course the responsibility to care of the woman you love and that is something that every man ultimately owns upto. That's also something with which the film deals with," he explained. 
Praising the role of Emraan in the film, noted Bollywood Director Mahesh Bhatt said "Emraan has given one of his best performances. He makes a brilliant transition from being referred to as a 'Serial Kisser' in this film." 
"Tum Mile", Bhatt said is the best film coming from Vishesh Films camp, adding "It's about a love storm which talks about how easy its to fall in love and how difficult it is to stay in love."
"Soha will really shock all of you with her performance in the film which will make you feel that why the hell you underestimated this pretty talented actor," he said. 
"The character is close to my heart and it's an opportunity for me to present myself to the audience and I'm passionate on it," Soha Ali Khan said. PTI