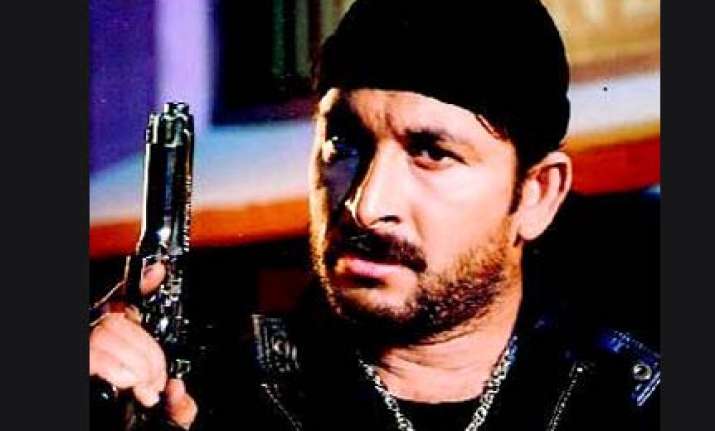 It was a harrowing experience in real life for Manoj Tiwari, after he was detained along with his crew by the Uttar Pradesh police in Pratapgarh on Friday, when they were shooting a dacoity scene in a real bank, says a Mirror report. One of the employees of the State Bank of India (SBI), UP mistook the film crew as real dacoits and informed the police on the emergency helpline. Within minutes, the UP police swung into action and detained the Bhojpuri superstar and the film crew for an hour.
The crew was shooting the scene for the movie, Dayavaan inside the SBI's Pratapgarh branch in UP. Tiwari, who plays the role of a dacoit in the movie, was enacting the scene in which he holds the bank manager at gunpoint and takes him out of the bank.
But as soon as a gun-wielding Tiwari started to act out the part, an employee, who had just stepped into the bank, thought it was for real. He got scared and immediately dialled the police's emergency number.
"Yes, it' true we were detained for an hour by the police. The problem occurred when the real bank manager pulled down the shutter and went away for some time. But the police let us go when they realised that the entire scene was staged," said Tiwari.
Sources said that the film producer Ashok Gupta had neither taken any prior permission for the shoot from the police or the bank, nor had they intimidated the bank staff about the film shoot.
Manoj Pandey, chief general manager, SBI Pratapgarh, said, "I am unaware of any such incident. We have 29 branches of our bank in Pratapgarh and we have not given any permission for a film shoot. Nonetheless, I will check."
When contacted, film director Aslam Shaikh said that the crew had very little time to contact the police and bank authorities for permission. "We didn't know that the entire episode would have blown to such an extent." The film director has now decided to shoot the scene in Mumbai to avoid any untoward incident.