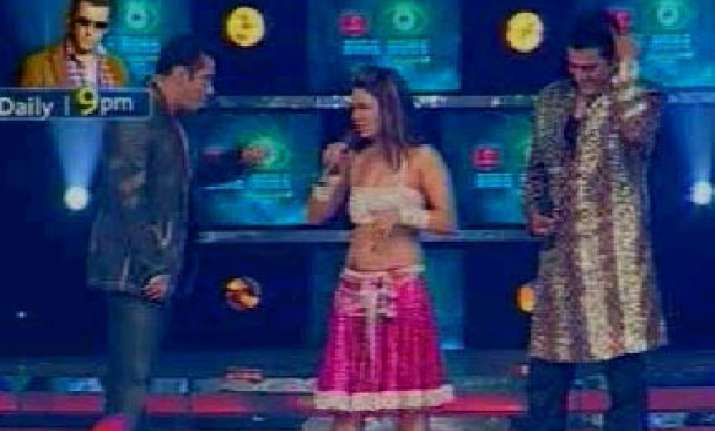 Mumbai, Oct 3 : Former lawyer of the lone terrorist held alive for Mumbai terror attack, a former dacoit, and a Pakistani actor are some of the contestants to be locked up in a house under the vigil of over 30 cameras for over three months as the fourth season of 'Bigg Boss' kicked off tonight.  
Another highlight of the one of the most eagerly-awaited and watched shows is its host, actor
Salman Khan
who currently is in top form after the super success of his movie 'Dabangg'.
The house mates unveiled by him in a glitzy ceremony held near here are Abbas Kazmi, convicted terrorist Ajmal Amir Kasab's former lawyer, veteran filmmaker Mahesh Bhatt's son Rahul, who was in news for alleged nexus with terror suspect David Headley, Davinder Singh alias Bunty Chor, a thief from Delhi on whose life the Hindi movie 'Oye Lucky, Lucky Oye' was reportedly based and former dacoit Seema Parihar, who is facing several cases of murder.  
Entertainment industry is being represented by actor Ashmit Patel, brother of Amisha Patel, Sameer Soni of 'I Hate Luv Storys' fame, Bhojpuri superstar Manoj Tiwari, TV actors Shweta Tiwari and Sara Khan, models Aanchal Kumar and Hrishant Goswami, and Sakshi Pradhan, the Splitsvilla-girl. For the first time, Pakistani artists too have been roped in for the show.  
Veena Malik, former girlfriend of Mohammed Asif, accused of spot fixing, Begum Nawazish Ali, a cross dresser who hosts a chat show on a Pakistani channel are the guests from the neighbouring country. Salman while promised a roller coaster ride to his and show's fans, had a message for the contestants too as he welcomed them in the Bigg Boss' house.  
With me as the host, people can expect as much fun outside the house, as inside. That is a promise I make to them but for the contestants I have only one message...your actions will define your fate on the show (kar bhala, toh ho bhala)", he said. The reality show will be aired daily at 9 pm will see Salman interacting with all house mates and announce the week's eviction on Friday.
Every Saturday, he will lead an entertainment extravaganza with a wide range of exciting performances and a fun-interaction with that week's evictee. The 14 handpicked contestants will be locked in the house for 96 days with 35 cameras following their every move round-the-clock. PTI