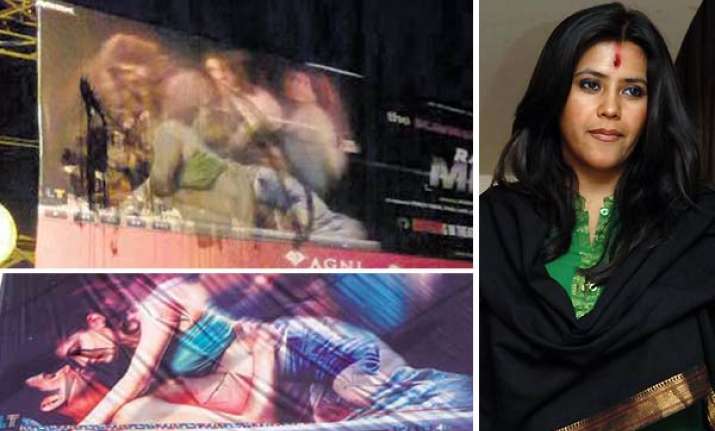 Mumbai, May 9 : Angry local residents in Andheri and Bandra on Sunday blackened the faces of the lead actors of Ekta Kapoor's film Ragini MMS and pulled down the hoardings, says a media report.

Ekta Kapoor's paranormal film Ragini MMS has been given an 'A' certificate by the Censor Board. The film is set for release on Friday.

Several angry residents pulled down posters of the film at some places in Mumbai and also blackened the faces of the lead couple Rajkumar Yadav and Kainaz Motivala, citing vulgarity concerns.

Airport authorities pulled down two hoardings of the film near Santa Cruz  and a few posters were  blackened in Andheri East and Bandra lake. This has left the Balaji team fuming. They feel someone is trying to sabotage their film.

Kainaz seems unperturbed by such actions and says, "It doesn't matter. People have loved the promos and I think they will still come and watch it."

Raj adds confidently, "I think everyone has their own perception. Hopefully this will not harm our film and people's perception will change once they watch the film."