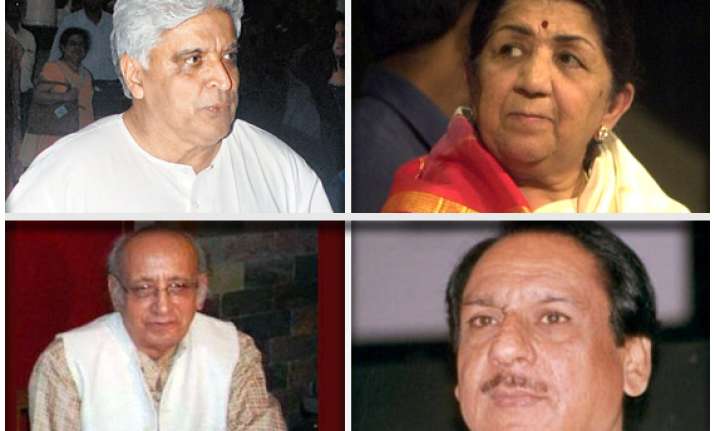 New Delhi/Mumbai/Karachi: A pall of gloom descended on Bollywood after news came about the passing away of Shahanshah-e-ghazal Mehdi Hassan in Karachi.
India's nightingale Lata Mangeshkar told TV channels including India TV that each and every ghazal sung by Mehdi Hassan was special for her. "His voice had that unique charm, which I rarely find among other singers", said Mangeshkar.  
Bollywood's noted Urdu poet Javed Akhtar said, an era in ghazals is over. "It was the era which began with Mehdi Hassan and is going to end with him.  He brought new colour, new style to ghazal singing. There were other great ghazal singers before him too, but he was special." 
Noted Urdu poet  Nida Fazli told India TV: "Mehdi Hassan was himself a school in ghazal singing. His voice was God's gift, and with his tireless efforts, he achieved greatness.Bringing fusion in ghazal singing, he brought ghazals nearer to the masses.  
"There were two greats in ghazal singing : Jagjit Singh and Mehdi Hassan, and now both are no more. I remember in the Seventies, when he came to Mumbai, and most of the greats actors turned out to hear him sing.  
"His voice did not brook any borders between India and Pakistan. The voice, hailing from Rajasthan, was heard with rapt attention in places as different like Lahore, Karachi, Delhi and Mumbai. 
"He evolved ghazal singing into a fine art. He used to sing ghazals of all genres, romantic,  classical, political and philosophical. 
"It was Jagjit Singh alone who was comparable to Mehdi Hassan, but both had their different styles." 
Prominent Pakistani ghazal singer Ghulam Ali said, darkness has descended on the world of music with Mehdi Hassan's passing away. "We won't get a great artiste like him any more.  I toured the United States with Mehdi Hassan in 1988-89 and performed at several concerts jointly.. Such great singers never die, they live in the hearts of their fans for hundreds of years." 
Another Pakistani singer Adnan Sami said: " I am really sad.  The ghazal singing that Mehdi saheb taught all of us cannot be reciprocated in any manner. He was simply great. "