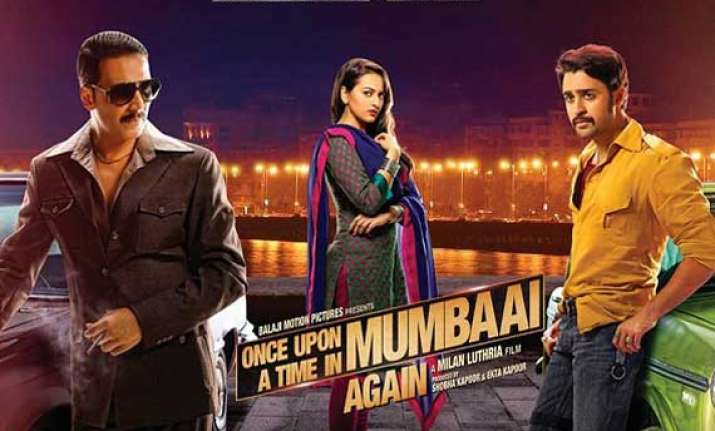 Ratings- **; Star cast- Akshay Kumar, Sonakshi Sinha, Imran Khan, Sonali Bendre, Mahesh Manjrekar: Director- Milan Luthria; Music- Pritam
'Agar main hero ban gaya to meri pehchan bura maan jayegi! Shoaib's line to never betray his own identity might have a deeper meaning but for many it left their head's tickling.
There are other such one-liner dialogues that compliment the 80's era where gangsters used to be filmy. Their shades never used to ditch them and formal suits used to be the dress code. What Milan Luthria expected was that the dialogues and portrayal of the similar era will be welcomed by its viewers.
With Akshay Kumar, who isn't a Khiladi anymore but is a 'complete game' as he says in the film, Once Upon A Time In Mumbaai Dobara is unexpectedly a big time let down. We didn't expect Luthria to peek in the minutes of the law-breaking world as he didn't glance into it in the original Once Upon A Time In Mumbaai. What we anticipated from him was to maintain a similar verve in premise, which won accolades in the limelight of Ajay Devgn and Imraan Hashmi earlier.