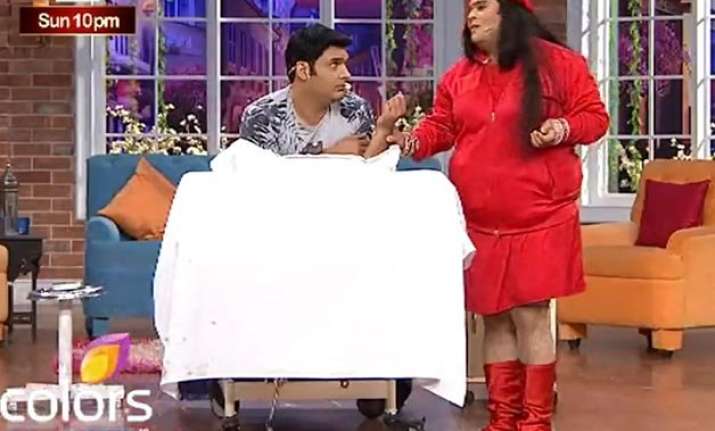 Hope it's just unadulterated humour and nothing that would earn criticism for comedian Kapil Sharma who has returned to his show 'Comedy Nights With Kapil' (CNWK) after a good long sabbatical.
The comedian was away from work for the last couple of weeks due to health reasons. On Sunday, it was his first show after the comeback, which the Colors channel had already announced through its official Twitter handle.
It is known that the Bollywood debutant makes fun of everyone around him and in the first show after his return, an entire skit was designed making fun of the controversial godwoman Radhey Maa, who is in the news these days.
The lady, afflicted with materialistic ambitions, has been summoned in a dowry case. She is known to sing Bollywood songs, wear glamorous dresses and play gimmicks while preaching to people.
In the CNWK show, Kiku Sharda was shown dressed in a short, red dress with long boots, very similar to Radhey Maa's picture circulating widely on social media these days.
In the past also, Kapil has been in legal troubles due to some of his jokes. Currently, Kapil is awaiting release of his debut movie 'Kis Kisko Pyaar Karu' due for release on September 25.
The video of the same has been uploaded by the channel on it's official site.