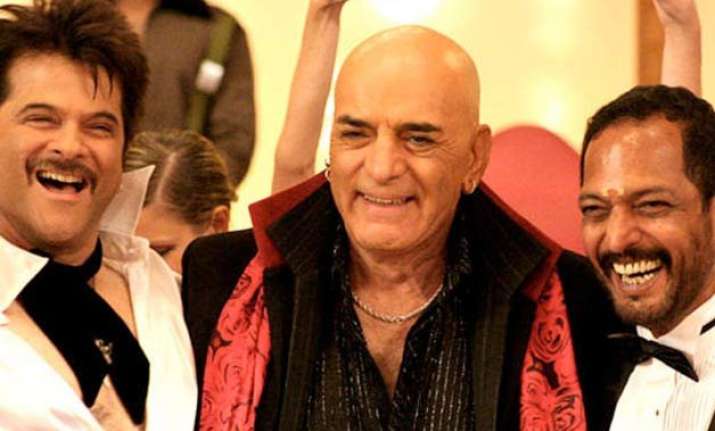 Mumbai: Veteran actor Nana Patekar, who will be seen in "Welcome Back" says there is no one who can replace the late legendary Feroz Khan.
Feroz had played the role of Don RDX in the Akshay Kumar-Katrina Kaif starrer 2007 film. Now that the makers are coming up with a sequel, Nasseruddin Shah will get into the shoes of the yesteryear actor.
Shah will be seen essaying a rib-tickling don "Wanted Bhai" in the film, which hits screens on September 4.
"No one can replace Feroz Khan saheb. He used to treat us like kids. If he was there he would have done that role.
But Naseer sir is equally talented and of that caliber and hence he is doing this film," Nana told reporters here at the trailer launch of the film.
"Welcome Back", a comedy sequel to the 2007 film "Welcome", has an ensemble cast including Nana Patekar, Anil Kapoor and Paresh Rawal reprising their roles from the prequel, while John Abraham, Shruti Haasan, Nasseruddin Shah, Dimple Kapadia are the new additions.
On Akshay Kumar not being part of the sequel, director Anees Bazmee said, "The first film that we made was a complete film and the role of Akshay Kumar, Katrina Kaif and Mallika Sherawat ended there. When you see this film you will see that the hero cannot be Akshay who was a nice man in that film and in this movie, John plays a bhai and he is best for the role."
Nana who has earlier worked with Anil is all praise for his co-star.
"After 19 years we did a film together.. After 'Parinda' we came together for 'Welcome'. I remember that time Anil was a star and I was a newcomer. I had a great bonding with Anil while working on this film.. He is like my younger brother," Nana said.
"Welcome Back" marks the comeback of the famous pair of Uday bhai (Nana Patekar)- Majnu bhai (Anil Kapoor).
"I felt good doing this role after seven years. If I keep doing same stuff people will get bored. I am happy and lucky I got to be part of this film. My and Nana's character go hand in hand.. Our characters of Majnu bhai and Uday Shetty are incomplete without each other," Anil said.