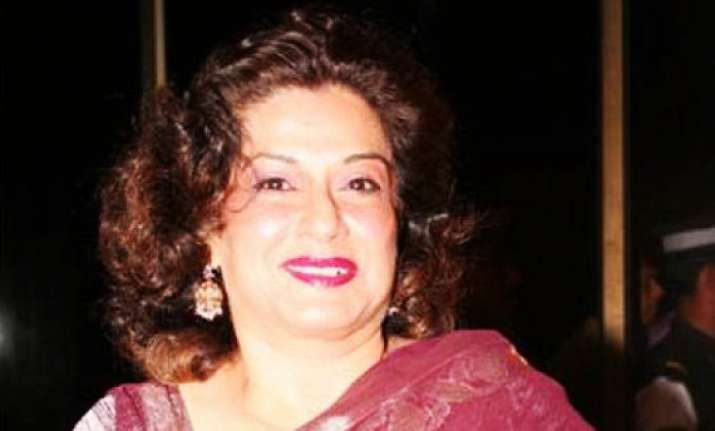 Kolkata, Apr 8:
Veteran actor Mousumi Chatterjee has been honored with a lifetime achievement award from West Bengal Chief Minister Mamata Banerjee at the 12th Telecine Awards 2012 for her contribution to Indian cinema.
Chatterjee made her debut in 1969 with a Bengali film 'Balika Bodhu' directed by Tarun Majumdar. Her first Hindi film was 'Anuraag' in 1973.
"Happy to get the award from the people of my home state and that also from the hands of Mamata," Chatterjee said after getting the trophy last evening.
"I love Bengali film industry. Many young boys and girls are really working well here and I hope we will one day surpass everybody. Kolkata is the cultural capital, one day we will be the number one in films," Banerjee said in a brief address.
Popular Bengali actor and MLA Debasree Roy, actor-turned-MP Satabdi Roy, actor and MP Tapas Pal, and Telecine Society Chairman, actor-MP Chiranjit were present.
Young musician Neel Dutta was adjudged the best music director for the national award winning film 'Ranjana Ami Aar Asbona' while young lyricist-singer Anupam Roy received the best playback singer award for 'ekbar bol...' in the movie 'Baishe Srabon'.
The awards were decided on the basis of public voting on nominations selected by The Telecine Society with actor and MLA Chiranjit being its president.
New age Bengali film director Srijit Mukherjee was conferred the best director award for the film Baishe Srabon as the hugely popular film 'Ichhe' got the best film honour.
Actor Parambrata Chattopadhay of 'Kahaani' fame was adjudged the best co-actor again for 'Baishe Srabon' while actor Rudranil Ghosh was considered the best actor special jury for 'Chaplin'.
Popular Bengali actor Deb was conferred the best actor for 'Paglu' at the ceremony which was sponsored among others by an agro-industry company besides music partner Dhoom and channel partner 'Newstime'.