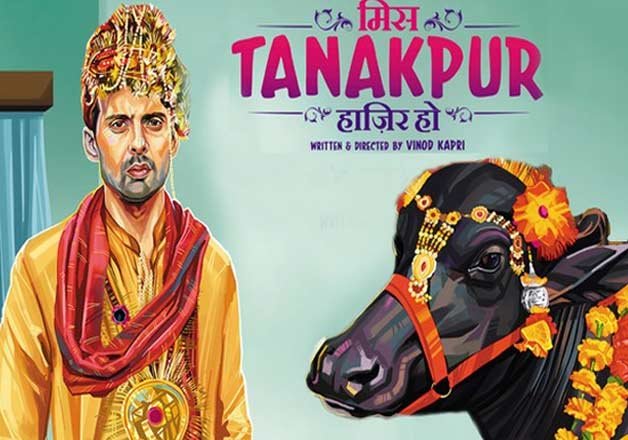 Vinod kapri's ' Miss Tanakpur Hazir Ho'  is a social satire cum a love story. It's a running commentary on the existing system where witness can be created, proof can be tampered and powerful can have the final say.
The story of the film revolves around a village in Haryana where Arjun (Rahul Bagga) an electrician and aspiring policeman is falsely accused by village Pradhan ( Annu Kapoor)  of raping his buffalo. Pradhan along with his dependable henchman Bhima( Ravi Kishan) and local Tantrik( Sanjay Mishra) plans this to seek revenge from Arjun for having an affair with his wife Maya (Hrishitaa Bhatt).
Pradhan uses his influence to make Khap panchayat pass a verdict that Arjun has to marry the victim. What follows next is an agonizing ordeal for Arjun and his family.
Note: Arjun's idea of visiting Pradhan's wife to apply balm on her aching waist during his sister's marriage was in itself a suicidal step not only for him but for the script also. Moreover, his respectful love for her did not churn out well in the story.
The film starts slowly and crosses almost halfway when you will understand which way the story is headed. The screenplay is pretty good but the film could have been edited better as a few scenes are deliberately forced in for slapstick comedy. The second half of the movie is more enjoyable especially after the arrival of sub-inspector Matang Singh( ever dependable Om Puri).
The climax of the movie does not live to the expectations but then there was not much left for the characters to portray.  Kapri's direction does falter at times but he manages to pull off the film by successfully articulating his perspective to the audience.
There are wise and witty moments in the film that make you smile at human foibles and a few tearjerkers rendering the inherent irony in the circumstances. Besides the film has scores of rustic and colloquial dialogues that would tickle your funny bone.  
Music of the film is mediocre but background score does get effective at times. The item number "naach basanti naach" is an assault to the senses.
Annu Kapoor gives a  standout performance in a  role that demanded both comedy and wickedness.  Besides the film has a colorful parade of likeable  characters with likes of Om Puri, Ravi Kishan and Sanjay Mishra all perfectly cast and rendered.
Film's lead Rahul Bagga has a few dialogues as his main job was to suffer in the film still he emoted his role quite well. But Hrishitaa Bhatt's performance was a drag. She tries too hard to act but her performance leaves a lot to be desired.
The film makes a mockery of the  system with its portrayal of hard hitting facts about the rural India
The film touches upon a slew of social issues concerning Indian villages state of woman, law manipulated by powerful people, black magic, superstition, and so on. Film raises a pertinent question" Is it the buffalo or the system that is being raped?"
All said and done the film is made with good intention and even with its flaws is entertaining and  has a strong social message to convey and deserves a watch.