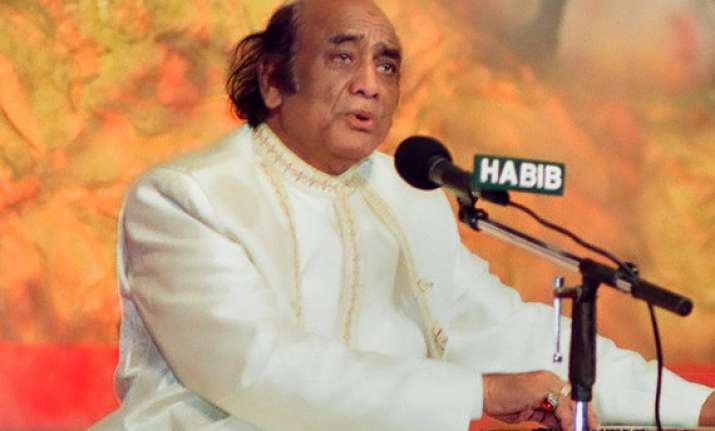 New Delhi: In memory of India-born Ghazal legend Mehdi Hassan who passed away this week, a 2000 square yards mausoleum is being constructed in north of Karachi.  
The 84-year-old died following multiple organ failure in Agha Khan Hospital in Pakistan on June 13.  "Governor of Sindh, Dr Ishrat Ul Ibad, has alloted 2000 square yards of land for my father's mausoleum. It will be constructed in the Shah Mohammed cemetery which is situated in the northern part of Karachi.
"The land has been named after the Mehdi Hassan family and other family members' graves can also be laid here. What more could we want than getting to lie beside our father after we die? We all are very happy," Hassan's son Arif told PTI Bhasha from Karachi.
Arif also said that there are talks to expand the Mehdi Hassan foundation, which was established in 2008 and aims at the betterment of Pakistani artists.
Though the head office of the foundation is situated in Karachi, it also has its branches in Lahore, Delhi and the US.  The Karachi Metropolitan Corporation (KMC) has also announced the establishment of a museum and music library in memory of the legendary singer.
The museum will display his personal belongings alongwith a collection of memorable songs and ghazals sung by the maestro.
Arif said that his brother Kamran Mehdi Hasan will carry forward the legacy of their father.
"Kamran is a very good singer and he has launched a few albums. He is also in talks to sing in Bollywood films. He is getting ready to handle our father's legacy," he said.