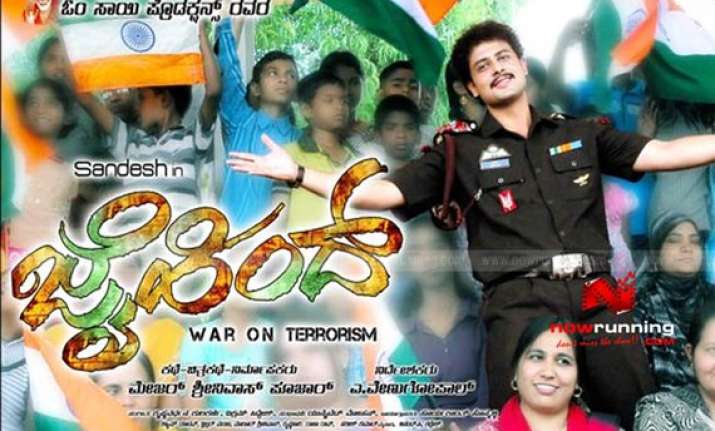 Mumbai, Nov 25 : A Marathi feature film based on the life of a policeman in the aftermath of the 26/11 attacks, is releasing today on the eve of the third anniversary of the Mumbai terror strikes.

Titled 'Hello Jai Hind', the movie is directed byGajendra Ahire and stars noted art director Nitin Desai and Trupti Bhoir, who is also the film's producer.
 
It attempts to picturise the transformation that has taken place in the life of a police constable, who witnesses the terror strike and how the city recovered from the attacks, perpetrated by 10 Pakistani men including lone surviving terrorist Mohammed Ajmal Amir Kasab. 

"The Mumbai attacks are shown in the backdrop. The film is about the state of families, who lost their dear ones. Also, We have raised questions like why Kasab is still alive and has not been hanged," Trupti told PTI in an interview.  "Personally, I feel, strongly about what is happening with Kasab.

The common man has been paying taxes for the services they are entitled to get. But the hard earned of tax payers has been used to provide security to Kasab...to keep him alive," she said.

Nitin plays the lead role of the police constable Shivaji Pawar, with Trupti playing his wife Durga. "The characters are not based on real life incident.
 
Two things are real - 26/11 attacks and Kasab...," Trupti said.  The music is given by noted composer-singer-lyricist Illayaraja, marking the debut of the Southern maestro in Marathi films. The film had to undergo few changes as the Censor Board raised some objections.

"The Censor Board had some issues with the film. They gave us U/A certificate as we dealt with Kasab and there were expletives in the film.

We had to change the name of Ajmal Kasab to Rajmal Aasab," Trupti said.The film releases in 250 theatres in Maharashtra and the makers are planning to dub it in other languages also.
 
"We intend to dub the film in other languages. We hope the film will awaken the common man and we all will ensure justice is delivered," Trupti added.