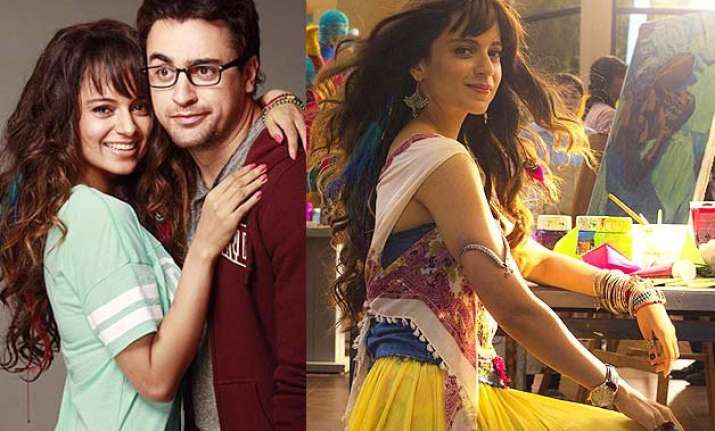 New Delhi: Kangana Ranaut's look as edgy and artsy in Nikhil Advani's 'Katti Batti' is out. The actress can be seen donning a pretty colourful look in the out still from the film.
As shown in the click, Kangana is spilling the vivacious charm of her smile as she is seated in front of an artistic canvas with a lot of paints and brushes surrounding the actress. And as what we conclude from the still, Bollywood 'Queen' might be playing a student of Arts or a professional artist too.
While those stacked bangles, chunky ear piece, rings and an arm cuff wholly covered the essence of funk and quirk in her look, the way she has styled her scarf over the tank is making for a highlight in her persona.
'Katti Batti' that deals with a simple love story stars Imran Khan opposite Kangana Ranaut.
And the film as directed by Nikhil Advani coincides with the director's previous popular venture 'Salaam Namaste.' The story of 'Katti Batti' revolves around Payal (Kangana Ranaut) and Maddy (Imran Khan) who fall in love with each other and end up having a live-in relationship.
The twist here is that while Maddy proposes marriage to Payal after discovering that the lady is pregnant, Payal refuses and asks him to take everything easy. Certainly with this plot, it seems 'Katti Batti' is a love story exploring extremes of a relationship.
It was not that long ago that the other stills from the film's first look test were out. In the stills, Kangana was seen embracing Imran. 'Katti Batti' has garnered most of the buzz since the news of its inception, mostly because of its unique pairing. And though the film marks Kangana's next after 'Queen' and 'Revolver Rani,' Imran Khan would be appearing on screen after a long break of a year.
Also Read: First Look: Kangana-Imran's 'Katti Batti' is next 'Salaam Namaste'
Imran Khan's last flick was 'Gori Tere Pyar Mein' with Kareena Kapoor Khan.
Produced by UTV honcho Siddharth Roy Kapoor, 'Katti Batti' is releasing on September 18, this year.