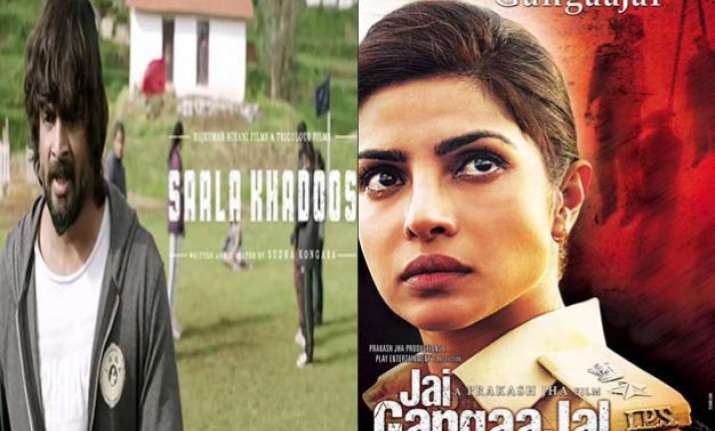 New Delhi: Prakash Jha is the latest filmmaker to face the ire of censor board in regards to his upcoming movie 'Jai Gangaajal'. The Central Board of Film Certification has asked Prakash to beep the word 'saala' where ever it is used in the movie.
Incidentally, the movie appears in the infamous cuss list of CBFC chief Pahlaj Nihalani. The revising committee has demanded for 11 cuts through out the movie which will enable over 50 odd changes in the core texture of the movie.
"How many beeps can you have in a film?" an angry Prakash told a daily.  
"Saala is a word we use in everyday conversation. My cop drama is set in the hinterlands. I'm not saying anything anti-national or anti-religion. I'm a responsible maker who would never hurt anyone's sentiments. There's a need to look at the context in which a particular word or phrase is used. If a villain is saying something and is immediately taken to task for it and not glorified, they should let it go," added the National award filmmaker.
Ironically, the censor board allowed Rajkumar Hirani to retain the word 'Saala' in his next, 'Saala Khadoos' starring R Madhavan.
"I was told that two members wanted to give it an 'A' certificate with several cuts while two others were ready to give it a 'UA' with minimal cuts. The matter was referred to Pahlaj Nihalani who asked me to send it to the Revising Committee. He sat in the screening and headed the committee. While several members appreciated the film, I was offered a 'UA' with 11 cuts which wasn't acceptable. There is no rule saying certain cuss words cannot be used," Prakash asserted in a defending mode.
Jha was hoping that this Priyanka Chopra starrer will get the same treatment as his 2003 movie 'Gangaajal', which had Ajay Devgn in the lead role. He said that 'Gangaajal' had got the UA certificate with only one word being muted. "It has been telecast on TV over 300 times since and no one has objected to the language," he pointed out.
The board also objected to a remark made on a woman in the movie. Justifying this scene in the movie, he said, "There's no overt sexuality or unnecessary violence. They wanted me to reduce an action scene by 50 per cent; I'm okay with that, but not okay with the language being diluted. I'm going to the Tribunal hoping they will see things in the right context. Else, I'll move court. One mindset has created all this absurdity."
From his words it clearly shows that Prakash, who is known to make socially engaging movies, is miffed with the censor board. He feels giving an A certificate to his movie will mean that the message he has for youngsters, will be left out. Let us see what new turn this story takes.