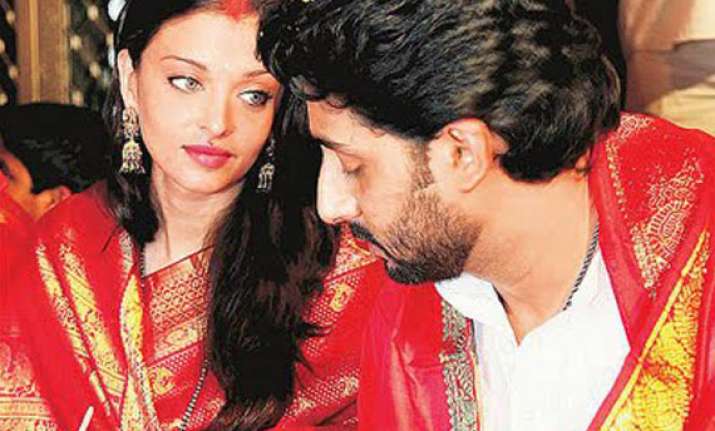 Mumbai, Nov 16: Bollywood actress Aishwarya Rai Bachchan today gave birth to a girl in a hospital in suburban Andheri here.

She was admitted to the Seven Hills Hospital on Monday night.

"IT'S A GIRL!!!!!! :-)))))," husband Abhishek Bachchan wrote on social networking site twitter. The baby is the couple's first child.

"I AM DADA to the cutest baby girl !! Dadaji...  ecstatic!!!!," actor Amitabh Bachchan said on twitter. 

The senior Bachchan had yesterday tweeted, "A day of expectation....but another day! The lord has his way and they are most special....we wait!!."

It was in June this year that Amitabh Bachchan had broken the news about his daughter-in-law's pregnancy.
As soon as the news of actress Aishwarya Rai Bachchan, giving birth to a baby girl broke out, congratulatory messages started pouring in for the Bachchans greeting them on the new member in the family. 

"Congratulations!! Baby B had a baby girl!!  @juniorbachchan!!! All the love and happiness...am sure she will be the prettiest girl ever!!!," filmmaker Karan Johar wrote on twitter.

"OMG! So excited Baby B is Daddy to a little Angel! Congrats Ash n @juniorbachchan and to the entire family! Welcome sweet baby girl:)," actress Bipasha Basu said.
 
"SrBachchan congrats sir, I'm sure Jayaji and you are thrilled...so so happy and lots and lots of love.  Congraattttsss abhishek, I'm soooo excited, please give Ash a biggg hugg, can't wait to see the little angel," actress Genelia D'souza tweeted.

"Heartiest congratulations to Aishwarya Rai and @juniorbachchan ..I am so so excited :) Congratulations:):):) When can we see her! Do post a picture," singer Shreya Ghoshal said.

"SrBachchan CONGRATULATIONS my dearest Amitji!! love to Ash and Abhishek!! God bless the little Angel!! love Raveena Anil," actress Raveena Tandon said.
 
"Many Congratulations Daddy," celebrity photographer Atul Kasbekar said.

"@SrBachchan... congratulations to you, Jayaji, Aishwarya and proud daddy Abhisheik and Nani and Nana," actress Celina Jaitley said.

"@juniorbachchan Congratulations Abhi and Ash.. .Lots of love to the new angel in your life. Love," Producer Ritesh Sidhwani said.