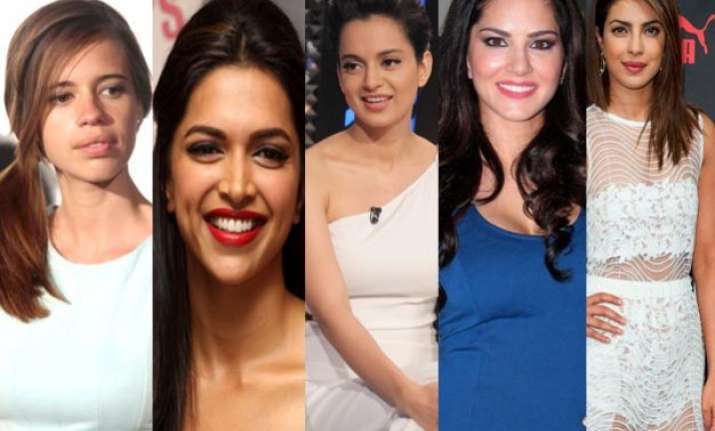 New Delhi: British novelist, playwright and poet William Golding felt it was pointless for women to fight for equal rights as men. One of his famous quotes reads, "I think women are foolish to pretend they are equal to men; they are far superior and always have been." However, such statements have rarely reflected social behaviour and the road to vanishing differences and discrimination between the two sexes is long and tedious.
March 8, celebrated as International Women's Day, is a step towards burning the bridge which has existed for centuries. With feminism being one of the most talked about and opinionated topics, Bollywood with its influence acts as a strong medium to look up to for inspiration.
Tinsel town houses many such actresses who have broken clichés and have forged a new path for themselves. This Women's Day, let us celebrate the spirit of these personalities, who are not just looked up to for their beauty nut also as an inspiration.
Kalki Koechlin:
Having Kalki in a movie might not guarantee a commercial success, but this 32-year-old actress is a critics' favourite. Known for her unabashed attitude, she surpassed herself when she spoke about her sexual abuse when she was all but nine years of age. Kalki confided about the incident and accepted that she felt it was her fault which is why she didn't mention it to her parents.
With her confession, Kalki also urged others who have gone through similar experiences to speak up. "It's important that parents remove the taboo around the word 'sex' or private parts so kids can speak openly and be saved from potential abuse," she had said.
Deepika Padukone:
Deepika Padukone somewhere brought back the memories of the cult classic, 'Mera Naam Joker' when she opened up on depression. In the cult classic, we saw how Raj Kapoor, despite being sad in personal life, made his viewers laugh with his joker act. That was reel but Deepika went through something similar in real life.
It was hard to believe for everyone to accept that one of Bollywood's most sought after actresses was suffering from depression at the height of her career. She confessed that one morning she just woke up feeling empty and did not what to do. She addressed that people need to break the stigma around mental illness and speak openly about it. Drawing from her own experiences, the actress has now opened her own NGO, 'Live, Love, Laugh' which focuses on spreading awareness about mental health.
Sunny Leone:
Before she stepped into Bollywood, Sunny Leone was an adult movie star, something that has troubled the self-proclaimed culture custodians. Time and again, she has been questioned about her past and each time she has maintained that she isn't ashamed of it.
Getting into Bollywood wasn't easy for her. In a recent interview, she confessed that her family in India doesn't want to keep any relations with her. She said, "I don't have family. My family in India has decided they don't want to see me. I tried meeting them once when I was close to Punjab but they wanted nothing to do with me."
Despite many roadblocks, Sunny chose not to give up. Her dignified answers and her non-apologetic attitude have made her a favourite among the youth.
Kangana Ranaut:
Walking down the lanes of Bollywood was never an easy path for a newcomer like Kangana Ranaut. Still, she has been credited for making a mark for herself and is also known for speaking her mind.
Not being the one to mince her words, Kangana stunned everyone with one shocking revelation. She revealed that when she was still struggling to make it big in the industry, she was physically abused. "I felt trapped. You feel people might help you. But there are no free lunches. But when you are going you fall for it," she said. Even during those trying times, Kangana didn't give up. "This man who was my father's age hit me hard on my head when I was 17. I started bleeding. I took out my sandal and hit him head hard and he started to bleed too. I lodged an FIR against the man," she added, imparting a valuable lesson to every woman to never give in to abuse.
Priyanka Chopra:
From India all the way to the West, Priyanka Chopra is slaying it. From being the protagonist to a prime time American TV series to presenting the Oscars, from singles with likes of Will.I.Am and Pitbull to being the villain in Dwayne Johnson's next, Priyanka is doing everyone proud.
However, this global stardom did not just fall to her feet. A few days ago, PeeCee revealed that she was labelled as an Arab Terrorist when one of her songs replaced Faith Hill's for Thursday Night Football on American TV. She said, "Why is every Arab person a terrorist, and why am I an Arab terrorist just because I am brown?"
Being the 'Indian-Indian' that Priyanka says she is, she did not let negativity get through her head and stayed put. We all know how her determination turned up for her.