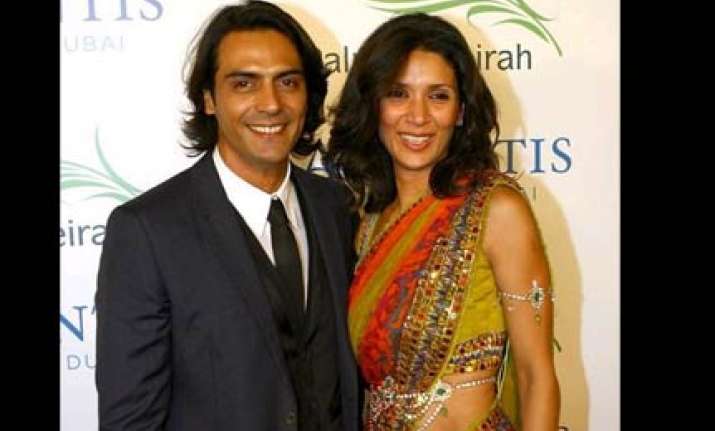 An unknown person is contacting young female models on the pretext of offering them jobs by saying that he's a staff in actor Arjun Rampal and his wife Mehr Jessia's company, says a media report.
Arjun and his wife are having sleepless nights. The man impostor is offering jobs to young models  by saying that the star couple is expanding their foray into the fashion industry by coming out with a signature line soon.
This man is asking the girls to meet him in person at locations that he is not disclosing immediately. He is also not making calls from his mobile phone or giving the girls his contact number. Arjun and Mehr strongly feel that his intentions are definitely dubious.
A girl, who has been contacted by this caller, revealed: "I suddenly got a call from a landline. A man from the other side told me that he wants me to model for Arjun Rampal and Mehr Jessia's new business venture. He said that he really liked the work that I had done so far and that since the couple is starting a fashion line soon, they were looking at having me model for them."
She added: "I was excited and I asked him when I could meet the couple. But he said that I would have to interact only with him. He did not give his number and said he would call again. I got suspicious. But it's been around 10 days and I haven't got any call. Then I found out from a few sources that Arjun and Mehr aren't coming out with any line."
A model coordinator adds, "We have heard about this person posing as Arjun's staff who is luring young girls by promising them work. We have strictly asked our girls not to interact with him and pass our numbers to him. He is a clever man. He is not calling agencies. He is contacting the girls directly."
Arjun says, "Apart from young models, he has also called up some of our industry friends posing as our staff so that he can get favours from them. But what has disturbed us the most is that the impostor is calling young girls and promising them work on our behalf. We want to make it clear that we don't know this person and we are not opening any new business venture."
Arjun adds, "If we have jobs to offer people, we will contact them officially. We have alerted all our friends and colleagues to try and find out who this impostor is. As soon as we trace him, we will take legal action and also approach the police. Till now we are clueless as this person is not revealing anything about him to the people he has contacted."