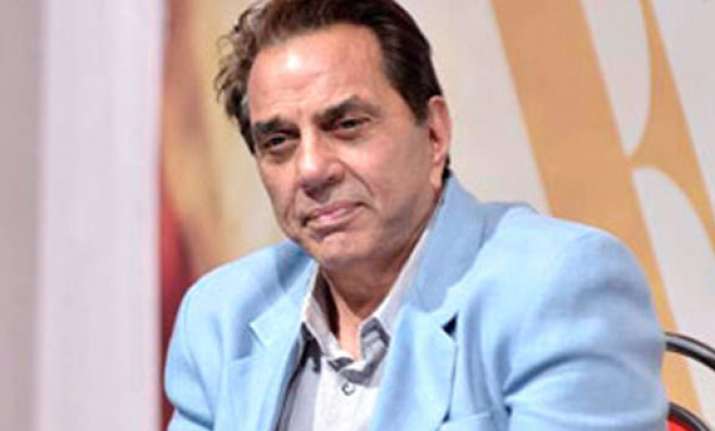 Mumbai: Veteran Bollywood actor Dharmendra is sad that his name was not mentioned even once in 100 years of Indian cinema.
In an interview to a newspaper, Dharmendra said:
" I never thought of becoming No 1 or No 2. There is no mention of mine in 100 years of cinema in which I have done 54 years.
"While I do wish I had been mentioned at least once somewhere, I don't feel bad as I know that nothing remains forever.
"It does not give me pain, but instead makes me strong and adds to my quality of patience and perseverance. My love for humanity and being truthful are my strengths.
"This affection and caring nature ensures I get love from everybody and am not uneasy anywhere."
Dharmendra recalled a Muslim couple he met at New York airport. "His wife was wearing a burkha and he looked at me and said 'Dharmendra?' He stopped there and had tears in his eyes. I held his hands and hugged him. He and I both went away after that. Humanity is more powerful than religion."
Dharmendra came to Mumbai at the age of 23. Now he is 78 and in the autumn of his life.
Asked about his sons Sunny and Bobby, Dharmendra replied:
"Sunny  is like me, but is quite introverted. He is also more emotional than I am. He can do anything for his father, mother, family, workers, neighbours, friends and is the kind of person who would even borrow money to help others.
" I was born to a school teacher and know what will happen if we don't have money tomorrow. So at least I would not borrow money to help others.
"Between my sons, I am more confident about Sunny. He has started taking care of me, due to which I have become younger.
"I am like his son and he, my father. He wants to make films for me. Woh Dharmendra ki jaga le raha hai aur main Sunny banta chala jaa raha hoon."
About his old age, the veteran actor says:
"I know I am getting old, but at heart, I am really young.
"Life has to come to an end and everyone has to go. Shohrat ka anth gumnami hai.  So whatever God has given you, usko aaj samajh ke jee bhar ke jiyo.
"There are ups and downs in every life.I never cried or shouted when I was down nor did I look for help or find a shoulder to cry on.
"When I got success,it never went to my head. This is how I am going on and I hope God is with me.
"I am a true person,so definitely this is my strength. Why do we become actors To be loved and admired.I am both,loved and admired.God is inside everyone and so we need to give back to people who have loved us."