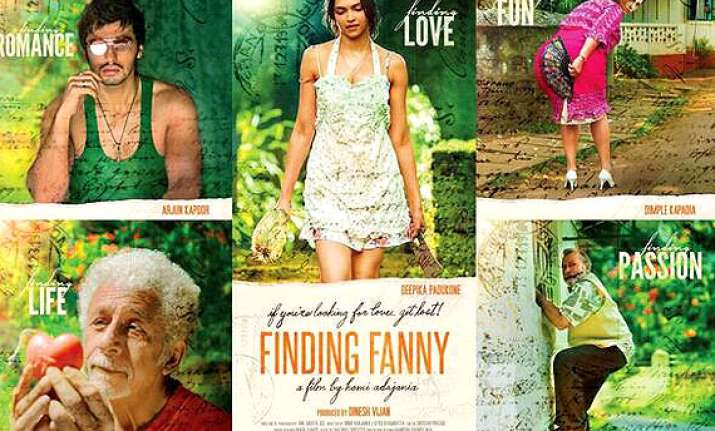 New Delhi: The first poster of Deepika Padukone and Arjun Kapoor starrer 'Finding Fanny' is out and in the first glimpse the poster looks innovative and unique.
The poster features the five main characters of the film and their respective quests. While Deepika Padukone is looking for love, Arjun Kapoor's looking for romance, Naseeruddin Shah is looking for life, Dimple Kapadia is looking for fun and Pankaj Kapoor, for passion.
'Finding Fanny' is a story of a film about five Goans going on a road trip in search of an old postman's childhood love, Stefanie "Fanny" Fernandes played by Anjali Patel.
Deepika Padukone plays the role of Angie and Arjun Kapoor as Savio Da Gama. Ranveer Singh has a cameo role in the film as Deepika's husband.
The film unites all these misfits, as they set off on an unlikely mission. Set in Goa, the film's dialogues are primarily in English.
First look of Deepika and Arjun's 'Finding Fanny' revealed clearly depicts that the film is going to be magnificent.
The poster doesn't reveal much about the movie but the way characters are portrayed, it is a perfect blend of romance, fun and contentment.
If we go by the look of Arjun Kapoor in the film, it seems the character is going to give real tough vibes. Donning a quite cool pair of shades and a vest, Arjun seems complete in the character while Deepika looks beautiful as typical Goan girl.
"Finding fanny' is a bi-lingual film which will release on Septembers 5. The trailer is slated to get release on July 9.
Shooting of the film was started in October 2013 and consummated in just 41 days. The movie is of just 90 minutes.