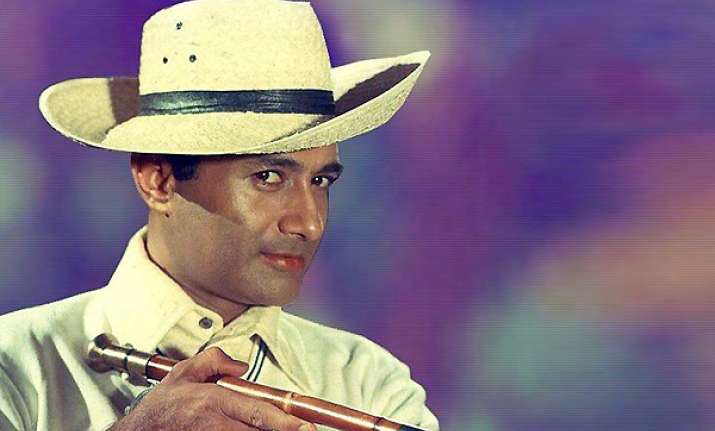 Mumbai, Dec 4: If ever a star in Bollywood  ever deserved the tag  'Evergreen Hero' it was none else than Dev Anand.

The man was a miracle of sorts. Despite his age and sagging features, he carried off the role of a romantic hero with elan.
Imagine him at the age of  47 prancing around the trees with Hema Malini, half his age, in Johnny Mera Naam, or at the age of 49 romancing a newcomer Zeenat Aman in Hare Rama Hare Krishna, or at the age of 55 with fresher Tina Munim in Des Pardes, he did the unthinkable.
That too, at an age, when heroes of his generation were either into filmmaking like Raj Kapoor or doing the roles of veteran actors like Dilip Kumar and Pran.

Dev Anand, writes PTI,  was the ultimate flamboyant and irresistibly charming silver screen star, whose romantic image and infectious zeal for life and cinema will outlive that of his contemporaries.


The charismatic star lived by the philosophy of "Main Zindagi Ka Saath Nibhata chala gaya, har fikar ko dhuen mein udata chala gaya," a song from his movie "Hum Dono" (1961).

The 88-year-old versatile actor-filmmaker, who passed away in London last night, will be remembered for his swagger, which continue to find imitations till date.

When his contemporaries like Raj Kapoor and Dilip Kumar stopped playing the leading men in movies, Dev Anand did not lose his innate romantic spirit and continued to woo his young heroines with trademark puff of hair, his sloping walk and smile in movies like "Johnny Mera Naam", "Des Pardes", "Hare Rama Hare Krishna" among others.


The actor-director-producer was working till his last.  His latest project "Chargsheet" is ready to release and he was planning a extention of his cult hit 'Hare Rama Hare Krishna'.

But there will be no Dev saab, as he was popularly addressed as by friends and fans, to complete them.

In his last interview to PTI in September on his 88th birthday, Dev Anand said that he had still a lot to offer.

"My life is the same and I am at a beautiful stage at 88.  I am as excited as I was in my 20s. I have so many things to do and I am looking forward to the release of 'Chargesheet'.


"I am working on a fresh script titled 'Hare Rama Hare Krishna Aaj' on audience's demand."

His films spoke of his modern sensibilities and desire to portray tomorrow's headlines today.

The Bollywood legend always said that his films were expression of his world view and hence dealt with socially-relevant subjects.

His recent movies focused on the themes of present times like "Awwal Number", "Sau Crore", "Censor", "Mr Prime Minister" and the latest "Chargesheet" where he played central characters.

Even though after 'Awwal Number', his movies did not do well at the box office, the evergreen hero's mantra was always to think positive.

"I never give myself a chance to get depressed. I think ahead," he would say.

There has always been a hint of romance and intrigue in Dev Anand's personal and professional life which perhaps made him so popular.

In 2007, he released his memoirs "Romancing with Life" where he admitted he has never looked back in his life, always preferring to remain optimistic and confident about future.

Born Dharamdev Pishorimal Anand in Gurdaspur of undivided Punjab to a well-to-do advocate Pishorimal Anand on September 26, 1923, he graduated in English literature from the Government Law College in Lahore.

He was the second of three brothers born to Kishorimal Anand.

Dev's younger sister is Sheela Kanta Kapur, who is mother of Shekhar Kapur.

His older brother was Chetan Anand and younger one was Vijay Anand.

Love for acting made him leave his hometown and arrive in Mumbai (then Bombay), where he began earning Rs 160 a month at the military censor office at Churchgate reading letters written by soldiers to their families.


His first breakthrough "Hum Ek Hain" in 1946, with Pune's Prabhat studios, did little to boost his film career.

He struck a friendship with fellow actor Guru Dutt and they made a pact: if Dev produced a film, Guru Dutt would direct and if Guru Dutt produced a film, Dev would act in it.

Dev Anand was offered his first big break by Ashok Kumar, who picked him up as the lead actor for Bombay Talkies production "Ziddi" co-starring Kamini Kaushal in 1948 which became a success.

In 1949, Dev Anand turned producer and launched his own company Navketan.


As promised, he signed his friend Guru Dutt to direct the crime thriller 'Baazi' (1951). This creative collaboration was a success.

In the late forties Dev Anand got a few offers to star opposite singer-actress Suraiya, an established actress of that time.

While shooting these films, he became romantically involved with Suraiya.

The two of them were paired in seven films together—"Vidya" (1948), "Jeet" (1949), "Shair" (1949), "Afsar" (1950), "Nili" (1950) "Do Sitare" (1951) and "Sanam" (1951), all successful at the box office.

In these films Suraiya was always first billed in credits to imply she was a bigger star than Dev Anand.

She fell in love with him during the shooting of the song "Kinare kinare chale jayen ge" while shooting "Vidya", where during the shooting, a boat capsized and Dev Anand saved Suraiya from drowning.

On the sets of the film "Jeet", Dev Anand finally proposed to Suraiya but her maternal grandmother opposed the relationship as they were Muslim and Dev Anand Hindu, and so, Suraiya remained unmarried all her life.

He was offered his first big break by Ashok Kumar.

He spotted Dev hanging around in the studios and picked him as the hero for the Bombay Talkies production, "Ziddi" in 1948, which became an instant success.

Always the one to think ahead, Dev Anand decided to start producing films after Zinddi's success.

In 1949, Dev Anand turned producer and launched his own company Navketan which till 2011 has produced 31 films.


His trademark style of dialogue delivery, an array of hats and a penchant for nodding while speaking became Dev Anand's style in films like "Munimji", "CID" and "Paying Guest".


His style was lapped by the audience and widely imitated. "Taxi Driver" (1954) and "CID" (1956) saw him portraying living in the urban underbelly.

He broke new grounds, playing a smuggler in "Jaal", absconding gang member in "Dushman", blackmarketeer in "Kalabazaar" and a murderer in "Bombay Ka Babu".


Still, critics accused him of being more style than substance.


But, Dev Anand proved his detractors wrong - first with a class act in "Kala Paani" (1958).
Then came "Hum Dono" (1961) and he finally sealed all doubts with a nuanced performance in "Guide" (1966).


In 1970s, his success story continued with "Johnny Mera Naam".


"Jewel Thief", directed by younger brother Vijay Anand, was another feather in his cap.

Honoured with the Dadasaheb Phalke Award in 2002, Dev Anand had also been politically active.

He led a group of film personalities, who stood up against the 1975 Emergency imposed by then Prime Minister Indira Gandhi.

He actively campaigned against her with his supporters in 1977 Parliamentary elections. In 1999, Dev Anand went with the then Prime Minister Atal Bihari Vajpayee in the historic bus trip to Lahore.

He also floated a political outfit, National Party of India, which he later disbanded.