Follow us on Two kids grow up playing and dealing with 'desi' guns and rapidly become local goons in Kanpur. While one- Gyani (Jay Bhanushali) is hot-headed, the other-Pali (Akhil Kapur) is loquacious.
Ratings-*1/2
Stars- Sunil Shetty, Jay Bhanushali, Akhil Kapur, Sasha Agha, Tia Bajpai, Ashutosh Rana
Director- Anand Kumar
Music- Kailash Kher
Soon they come under the radar of a gangster (Ashutosh Rana) who ropes in them in his business but destiny takes them to Army officer-Major Suryakant Rathore (Sunil Shetty) who guides them for a better life by using their prowess for the nation. But the two brothers' dreams differ and they set their ways apart. Will they reunite or live their dreams differently; Desi Kattey narrates this unscrupulous and overdramatic tale.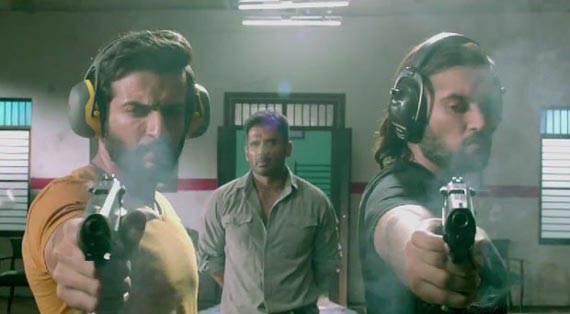 Director Anand Kumar totally dumps the cinematic technicalities into dustbin and brings out the fussiest movie ever. The concept of criminal turning into gold medalist in sports world is although noble but the execution and ways of dealing with it are pale and dishonest.
While the screenplay by Aaryan Saxena is plague, Anand Kumar's direction makes 'Desi Kattey' weaker. The 'dialogue-bazi' and fake aggression of characters fulfils the rest of the purpose.
The flaws make a beeline in this movie and to start with, we have Guddi (Tia Bajpai) who looks same even after over a decade and marries Gyani for whom she was his childhood crush. On the other hand, Ashutosh Rana's taking the two boys under his wings despite they killed his most trustworthy man, is dealt extremely lightly.
The first half is sufficiently loaded with desi guns and their 'thaae thaae', which gives you more headache than any logical stance.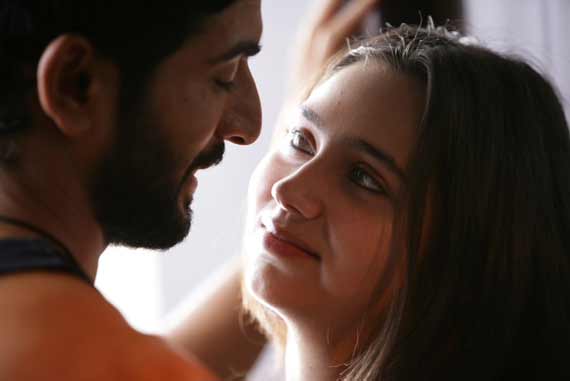 Unfortunately, it is carried forward in the second half minus any sense but plus some over the top emotional drama. While the bhai's couldn't stop missing each other with their eyes moist in every second frame, Sunil Shetty makes all possible efforts to come close to Shah Rukh Khan of 'Chak De India' as a coach.
Desi Kattey ever since the beginning is impotent and never catches our attention. The chemistry between lead couples is just there to make addition in the screenplay. The item number featuring Bigg Boss fame Claudia Ciesla is added to make us realize that the settings are rural and such songs are traditional there.
The biggest fault surface is on the pistol shooting department. A grand platform- The World Shooting Championship is dealt with so lazily and irresponsibly that expecting anything from director would be like mocking yourself.  The total filmi treatment in the arena of shooting and above them all Bhanushali's winning the championship after hitting the target with his eyes closed is a disaster. Dear, Anand Kumar, taking so much of cinematic liberty isn't wise!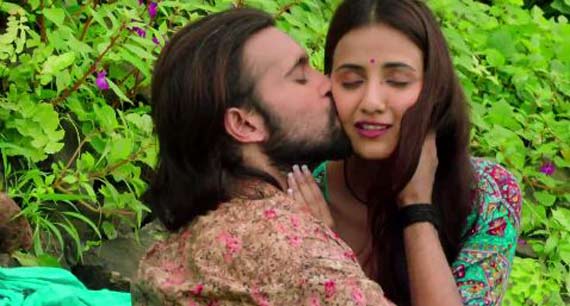 None of the performances except Ashutosh's charges us up. He is earnest in whatever frames he comes in. Sometimes his performance has a similar touch of 'Humpty Sharma Ki Dulhaniya'
Both Jay Bhanushali and Akhil Kapur couldn't do much except shooting and celebrating friendship. Debut actor Akhil Kapur tries to give that tough look but it neither comes from his voice nor action.
Shasha Agha after Aurangzeb is disappointing this time. Most of the time, it appears that she is over emphasizing on dialogues with her expressions.
Tia Bajpai couldn't have enough scenes but is fair enough in whatever she gets.
Music by Kailash Kher could have been better. None of the songs could make up in the charts or in our wits.
I'll got with one and a half stars for Desi Kattey.