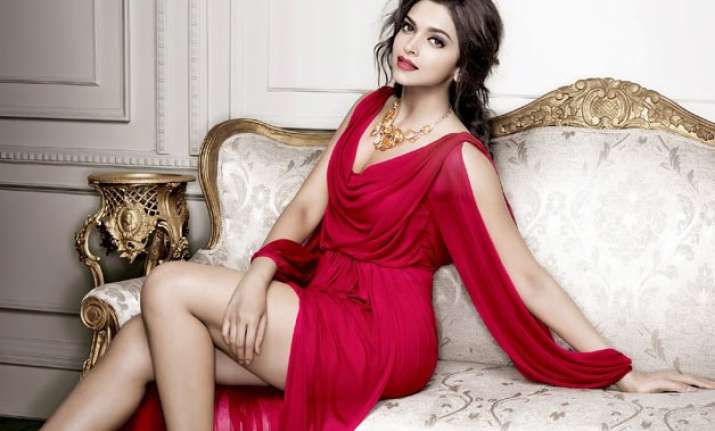 New Delhi: Actress Deepika Padukone says her song "Dewaani Mastani" from "Bajirao Mastani" is the grandest thing in the Sanjay Leela Bhansali-directed movie and is inspired by "Mughal-e-Azam" and its famous song "Jab pyar kiya toh darna kya".
The number sees Mastani (Deepika) dancing in abandon for Bajirao (Ranveer Singh) as his first wife Kashi Bai (Priyanka) looks at them.
It is a tribute to K Asif's grand picturisation of "Jab pyar kiya toh darna kya", a tense moment in the classic, where Anarkali finally challenges Mughal emperor Akbar by openly declaring her love for his son Salim.
"The song is inspired by 'Mughal-e-Azam'. We have tried to recreate the Aaina Mahal (mirror palace). But it is also Bhansali's contemporary take or version of a song, where Mastani is completely besotted by Bajirao and is madly in love with him," Deepika told reporters here at the song's launch.  
"It does not matter to her where she is or who is watching her. She has eyes only for this man, who is sitting in front of her. She is intoxicated by love."
Bhansali is famous for the grandeur of his films and creating elaborate and lavish sets in his movies be it "Devdaas", "Saawariya" or "Ram Leela".  "Bajirao Mastani" is his dream project as he had plans to make the film 15 years ago. Deepika said it was an emotional moment for the team to see the set destroyed after they wrapped up the song.
"This song is my grandest song, in terms of sheer scale...  Within the movie itself, this song is probably the grandest thing that we have done. We had the maximum number of visitors on this, it almost became like a museum.  
"At one point of time, we were considering to strike some deal and make it a museum. When we finished shooting the song after 9-10 days we didn't have the heart to break it down." "Bajirao Mastani" will hit theatres this December 18.