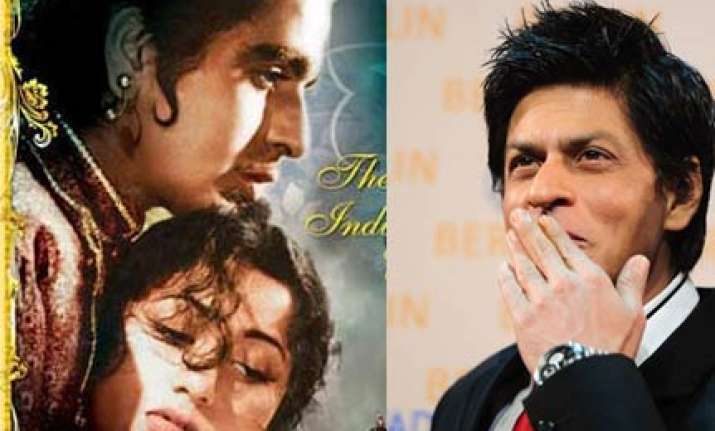 Mumbai, Feb 25: Bollywood superstar Shah Rukh Khan who has worked in remake of 'Devdas' and 'Don' in the recent years, says 'Mughal-e-Azam' is the mother of all films and such iconic classics cannot be remade.
"Mughal-e-Azam is the mother of all films. 'Ma ka remake nahi hota' (Mothers cannot be remade)," Shah Rukh told reporters here last night after unveiling a documentary
produced by his Red Chillies Entertainment company on "Mughal-e-Azam".
According to him, even though many movies with similar theme as in with K Asif's magnum opus have been created with good amount of success, 'Mughal-e-Azam' still remains an epitome in Indian cinema.
"Some movies cannot be touched and this is one of them.The orginality, passion of the filmmaker is so much evident in Mughal-e-Azam, that it cannot be recreated during a remake,"SRK who flew down from Malaysia where he is shooting for 'Don2' for the release function, said.
He said the documentary was not a piece of art but done to inspire people in showbiz about the need to preserve classics which are part of history."Remaking classics is not an answer to preserve them," he felt.
SRK said the documentary contains interviews with the family of K Asif who are based in London and their efforts to keep the film alive among the younger generation by colouring the movie, preserving the prints and asking painter M F Hussain to make the film his muse and bring it on canvass.
The 45-year-old actor, who dons the role of 'Sutradhar' in the documentary, maintained that it was not meant for business but to showcase the hard work done by those
associated with 'Mughal-e-Azam' to keep the memory of the film alive.He said his father worked in the film for a day and hence he had emotional attachment to it.
"My father was selected for a Pathan's role and he performed so badly that Asifsaab threw him out of the film. My father would say to me when I was small --Asifsaab told him to go back home and give birth to an actor--," he said.
To a question on which of his own film could be documented in the way Mughal-e-Azam had been done, he said it could be Dilwale Dulhaniya Le Jayenge after 15-20 years.
When asked which role he would like to play if Mughal-e-Azam is remade, SRK said, "You should ask this to the filmmaker who would dare to take this risk of remaking the film."
Shah Rukh said, 'Mughal-e-Azam' was very inspiring to him as a producer. "When I am confronted with several hurdles as a producer, I think of Mughal-e-Azam which experienced several hurdles but without compromise on the passion of filmmaking."
He said Emperor Akbar's dialogue in the film "Salim tumhe marne nahi dega aur Anarkali hum tumhe jeene nahi denge" was his favourite.
When asked about his new look of long hair, SRK said it was for 'Don 2'. I admire women for carrying off long hair so gracefully.For me this is really painful. I am waiting for the shooting to end, he said.
The documentary carries interviews of
Aamir Khan
,
Priyanka Chopra
,
Ranbir Kapoor
, Kareena Kapoor, Hrithik Roshan,
Deepika Padukone
, Shahid Kapur, Amitabh Bachchan about
their memories of the film. They spoke of the grandeur and purity of the film which showcases the power of cinema.
SRK said the attraction, beauty of Mughal-e-Azam has remained intact even after five decades. "we still watch the movie in awe and admiration," he added. PTI