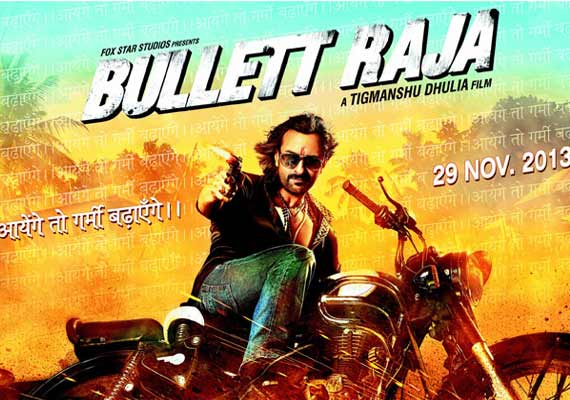 The local gangster saga couldn't be better narrated than Tigmanshu Dhulia. The director who is well-organised in reciting regional politics takes a pace through his Bullett Raja.
Film: Bullett Raja
Director: Tigmanshu Dhulia
Cast: Saif Ali Khan, Sonakshi Sihna, Jimmy Shergill
Rating: ***
Raja Mishra (Saif Ali Khan) who comes from a Brahmin family in Lucknow is victimised by the nexus of police, government and industrialists for helping Rudra's (Jimmy Shergill) family in an open fire by the enemies. To save themselves and their families they unite to be hailed as Raja aur Rudra, sabke virudh (a sort of Jai and Veeru). They come up as the ruler of the entire state UP. But in the mid Rudra is assassinated which provokes the fire of revenge within Raja. In the meantime, he falls in love with (Sonakshi Sihna) who is from Kolkata. Tigmanshu Dhulia narrates the rise of one such gangster through Bullet Raja in his unique 'ishtyle'.
His gangster is 'rangeen' who greets women with respect, shake a leg with them and does every that crazy thing which brings smile on their faces. On the other side when he is a 'Raavan' he never hesitates to insert the bullets down the flesh of the baddies.
Dhulia crafts his characters flawlessly and shades them up with the regional tint. Take Chunky Pandey, Gulshan Grover, Mahie Gill or any other artist, all of them garner enough meat to eat and make a room in your wits with their limited performances.