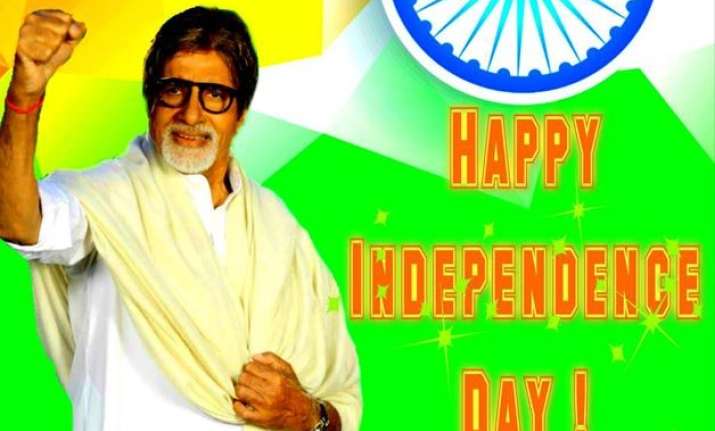 Mumbai: A string of Bollywood celebrities like Amitabh Bachchan, Hrithik Roshan, Karan Johar and Nawazuddin Siddiqui expressed their pride in being an Indian, and wished their friends, fans and followers a Happy Independence Day on Saturday.
Here's what B-Town clebrities tweeted on the country's 69th Independence Day:
Amitabh Bachchan: Happy Independence Day 2015.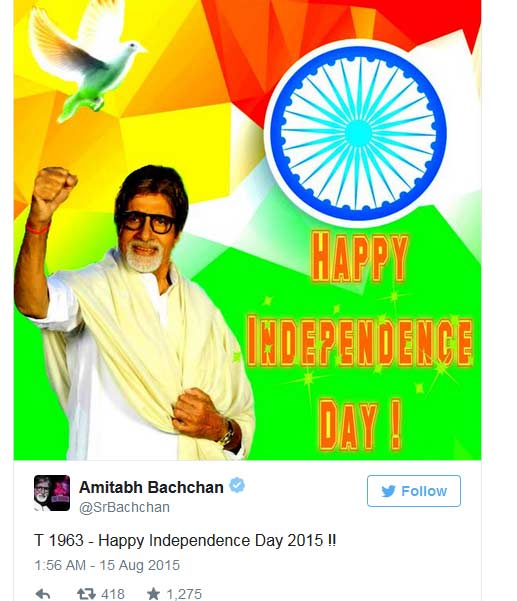 Hrithik Roshan: Celebrating 69 wonderful years of freedom and the legacy of those who fought tirelessly to give it to us. #JaiHind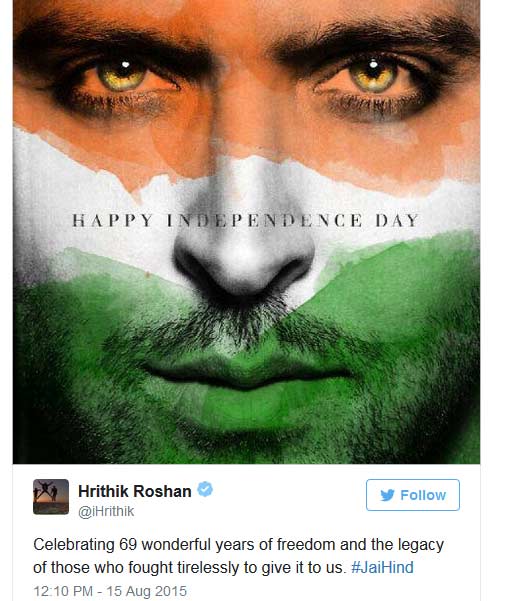 Nawazuddin Siddiqui: Happy Independence Day! Salute to the unsung heroes of India. Shandaar Zabardast Zindabad!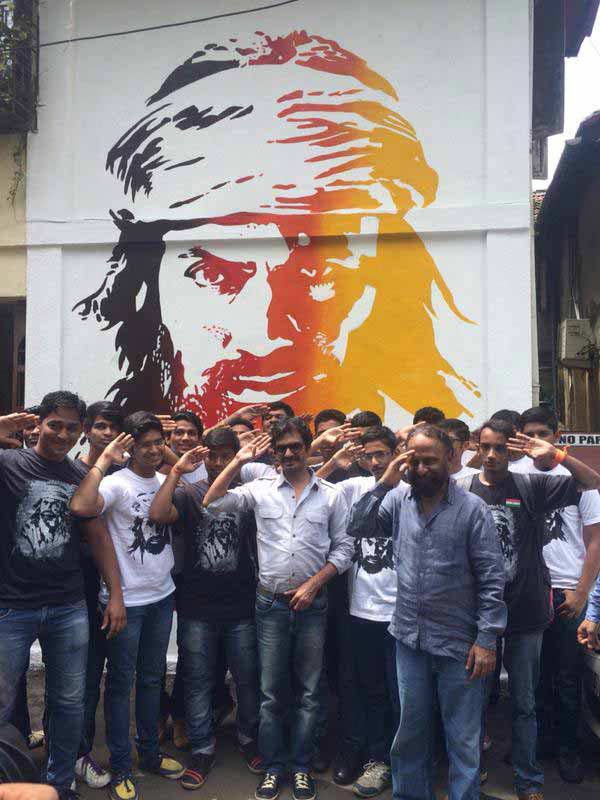 Karan Johar: Here's wishing everyone a proud and happy Independence Day.
Abhishek Bachchan: Happy Independence Day to the greatest country in the world. Jai Hind!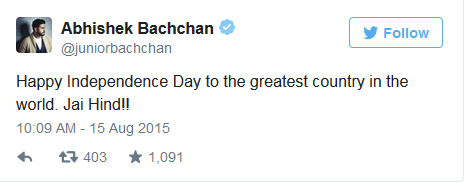 Aftab Shivdasani: "India is not a country we live in but a country that lives within us..." Let's celebrate it and make it beautiful. #IndependenceDay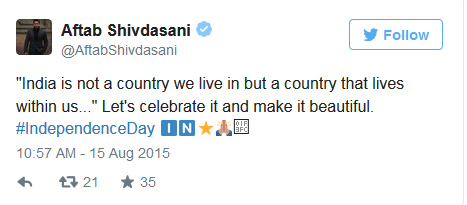 Shilpa Shetty: Happy Independence Day Tweetos... One thing that will never change is I'm #Proud to be Indian. Jai Hind.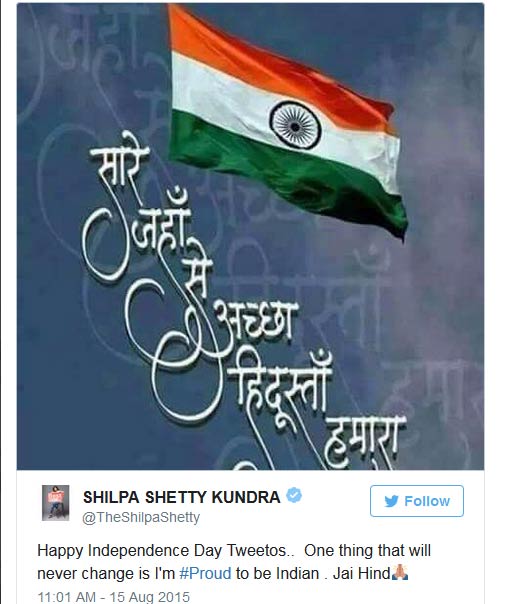 Varun Dhawan: Aye mere vatan ke logon, tum khub laga lo naara, yeh shubh din hai ham sab kaa, lahara lo tiranga pyaara #HappyIndependenceDay.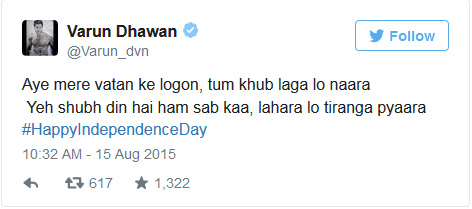 Ayushmann Khurrana: I prefer being a global citizen, not really a jingoist. But the diversity of my nation truly amazes me. From cuisines to cultures. #IDay2015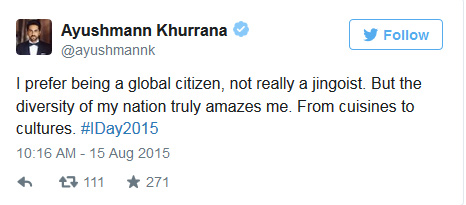 Manish Malhotra:I love my nation the Tradition the Culture the Colours the Craft the Craftsmanship

Milap Zaveri: I'm proud to be Indian and live in a country where I have the power and freedom to make a choice. Happy Independence Day! Jai Hind!
Randeep Hooda: Ironic as it may sound, what with all the bans doing the rounds, #HappyIndependenceDay, guys!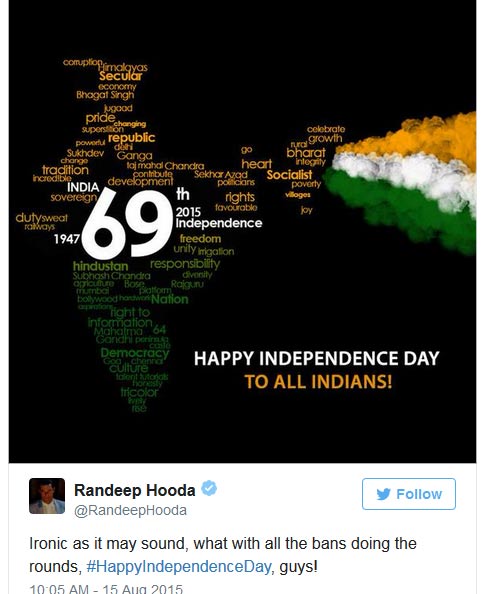 Priyanka Chopra: Miles away from my country, the scent of rain on dry mud, reminds of my home..my people..my India!To freedom and pride. Happy Independence Day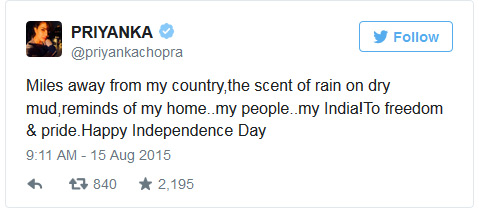 Sujoy Ghosh: happy independence day.. as Tagore taught us "..let the mind be free of any fear.."